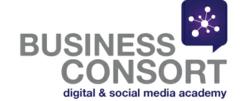 (PRWEB UK) 25 September 2012
Business Consort – The Digital and Social Media Academy launch the CAM Diploma in Digital Marketing which is available to study from anywhere in the world with thanks to on demand learning community!
Busy professionals can get a worldwide recognised qualification in less than 12 weeks!
Not only are they an Accredited Study Centre but the CAM Diploma in Digital Marketing will provide 35 CPD hours within The Chartered Institute of Marketing's Chartered CPD Programme.
This course is delivered fully online – Use their neat app or study online .
The community is fully interactive so the course tutor will help at every step of the way!
Course tutor Dawn McGruer FRSA is highly accredited and not only teaches these strategies but uses them daily – As the Director of Business Consort – The Digital and Social Media Academy is the perfect example of how effective digital marketing can be!
Dawn founded the academy and digital agency over 10 years ago and has not only trained thousands of businesses but has helped them dramatically increase revenues through applying her principles.
She was awarded a Fellowship by the Royal Society of Art, Manufacture and Commerce as recognition of her expertise in the field of social media marketing and her work to raise awareness of the advantages of social media to business owners.
Watch Dawn McGruer FRSA's video interview filmed at the Telegraph for tops tips to boost digital and social media marketing
Want a career advancement? This qualification is highly demanded by prospective employers due to the majority of businesses encompassing digital strategies as a key area of their marketing plans.
Achieving the Diploma in Digital Marketing will bridge the way to pay rises and Learn at a time that suits for a nominal cost of