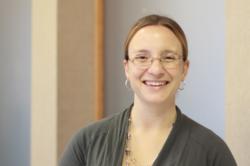 Louisville, KY (PRWEB) September 21, 2012
Christy Belden, VP of Media + Marketing at LeapFrog Interactive is no stranger to the Louisville community. Between her full-time commitment to LFI and her family, she still finds time to volunteer with numerous organizations, present to other area business leaders, and teach young professionals. She is a true leader and LeapFrog Interactive is thrilled to see her name on the 2012 Forty Under 40 List, sponsored by Business First.
Christy wears many hats during the course of her day, and she wears them all very well, said Dan Knapp, CEO, LeapFrog Interactive. She is a consummate professional who is able to successfully manage the marketing efforts for our clients and our company, everyday. Were very happy to see her hard work be recognized with such a prestigious award.
Belden manages LFIs seven-person Media + Marketing department and all the clients they serve, which include Sun Tan City, Fruit Of The Loom, EVS, Texas Roadhouse, and UofL Healthcare.
I was thrilled to be included on this year's Forty Under 40 list, especially among so many amazing industry talents, said Christy Belden, VP of Media + Marketing at LeapFrog Interactive. To be recognized is certainly an enormous accolade, but to be noted for doing what I love to do is truly special. I am very lucky to be able to share that passion with the community.
Business First has been recognizing up and coming young professionals under the age of 40 who show promise of being the next generation of community leaders since 1996. Accoding to Allison Stines June 28 article, more than 370 people were nominated for the 2012 Forty Under 40, and about 175 returned application forms for the judges to review. The 40 inductees where celebrated today at the Business First Forty Under 40 luncheon.
For a full list of this years winners, visit Business First.
About LeapFrog Interactive

Founded in 1999, LeapFrog Interactive Agency is a full-service digital agency offering a range of guidance to identify client needs and broaden strategic capabilities. Headquartered in Louisville, Kentucky, with a satellite office in Cincinnati, LFI offers clients access to capabilities in SEO, PPC, Social Media, Email Marketing, Mobile Marketing, Display Media, Media Buying / Planning, Digital Design, CMS, Website Development, Research and Analytics. Client list includes world-renowned names in the Consumer Retail, Fashion + Entertainment, Financial Services, Healthcare, B2B, Food + Beverage, and Education industries. For more information, please visit http://www.leapfroginteractive.com.
# # #