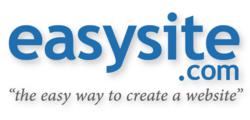 (PRWEB) July 03, 2013
EasySite.com has helped thousands of individuals create websites; however, now they are helping business owners create professional business websites with features that really help businesses build their brand.
EasySite has been featured on FOX and KillerStartUps.com and is starting to attract the attention of thousands of business owners that want a website with the latest functionality such as blogs, social media integration, forums, news, online store and much more.
Now EasySite is releasing business website tips that really help website visitors connect and convert to leads and sales.
Business Website Tips:
1) Business Website Blog: EasySite shows the business owner how to activate the blog feature on the EasySite platform and also gives easy yet specific instructions on how to write a blog so the content gets pulled up in the search results of the major search engines. EasySite explains how to put a specific keyword in the title of the blog and to also put that same keyword within the first 100 words of the blog so it tells Google and other major search engines what the blog and website is about. Linking that blog with that keyword to a page on the website that talks more about that subject also makes Google give an extra vote of confidence that the website should be considered in the search results when someone types in that specific keyword.
2) Social Media Integration: EasySite makes it so simple to add social media buttons to the top right of the website (where they should be.) All it takes is a simple copy and paste of the social media URL and a click of the mouse. Having theses social media buttons offers a great sense of professionalism and trust as website visitors are now offered other ways to communicate with the business.
3) Forums: Adding content to a website takes time; however, if a business owner activates the forum feature (which takes 60 seconds) and has website visitors posting questions or information in the forum about your business, product or service this can act as a free way to get quality content without the business owner having to write it. Make sure rules are set on what can and can't be posted on the forums and it's monitored so it doesn't damage the company's brand or image. Many successful online business use forums for this specific reason.
EasySite is currently offering a complimentary domain name and a five day trial for those business owners that are interested in creating their business website using the EasySite website builder. EasySite also offers a phone consultation during the five day trial period and phone support to help get business owners online quickly.