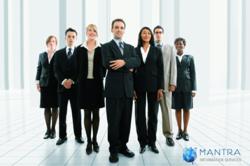 Bridgewater, NJ (PRWEB) April 25, 2013
Recent study shows that businesses will be relying more on custom software solutions and IT consulting services to grow their business. While adapting to latest technologies can be very exciting, it also brings challenges to find right resources for the job. Mantra Information Services, a leader in custom software development and consulting services, can be a good recruitment partner for businesses in need of finding right talent.
We are uniquely positioned, says Pam Laughlin, Manager of Client Services and Recruitment Practice at Mantra. We have a ton of experience in building complex web and mobile applications. We leverage very talented designers, software engineers, and project managers for our client projects. We have become experts at understanding client requirements and finding right resources for their work. Having a bad programmer on a software project can be gravely damaging. Our expertise in sourcing right resources is a key differentiator and becomes an asset for clients relying on our staff augmentation services, Pam added.
Mantra offers contract, contract-to-hire, and direct hire staffing solutions to everyone from small businesses to Fortune 500 companies. Mantra offers offsite and onsite engagement models. Mantra uses several methods to handle both sides of the staffing puzzle by finding well-suited candidates to match employers job requirements: