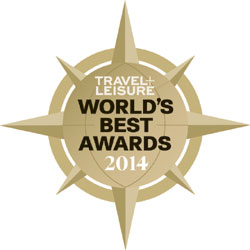 Toronto, ON (PRWEB) July 16, 2014
Butterfield & Robinson, the worlds premier active travel company, has been voted one of the Top Tour Operators in Travel + Leisure magazines 2014 Worlds Best Awards readers survey for a record-setting 15th time.
The annual survey asks the magazines discerning readers to cast their votes for the hotels, destinations and companies that define the very best in travel. B&R ranked third overall in the Tour Operators category for the second year in a row, marking a record-setting 15th time the company has made the list.
Weve always been focused on being the best rather than the biggest, so its gratifying to see that our commitment to quality is recognized and appreciated by our travellers, says B&R president Norman Howe. I think its also fair to say that we have more fun doing what we do than just about any other travel company in the world, and thats the secret of how we manage to stay at the top of these sorts of lists year after year!
B&R received an overall score of 96.39 out of 100, besting last years tally of 94.56.
Butterfield & Robinsonthe worlds premier active travel companydesigns incredible journeys to the worlds most amazing places. Crafted from the finest ingredients (exceptional lodgings, incomparable access, stellar wines and food, experienced guides and more than a few secrets), B&R crafts bike tours and custom luxury travel experiences that combine adventure with unparalleled cultural immersion in the worlds greatest destinations.
For more information on this trip and more visit http://www.butterfield.com.