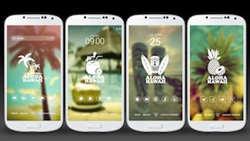 Los Angeles (PRWEB) August 05, 2014
Homescreen customization and sharing service Buzz Launcher and global online travel brand Expedia teamed up to design the ultimate travel homepacks, available now for Buzz Launcher users via the Google Play Store. Presented in four fun location specific themes (Japan, Korea, Bangkok and Hawaii), the custom-built homepacks make useful apps and high-quality content accessible for the tech savvy destination seeker.
The Expedia travel homepacks:

Feature beautifully-designed iconic symbols that represent each destination

Include helpful apps and content such as the Expedia mobile app, local apps, map and transportation apps, best food apps, travel guides, currency exchange apps and time utility apps

Come in two different styles the most popular homepack style: Glass series, and the highly trending homepack style: Flat series
By partnering with Expedia, we are able to provide users who love to travel with the most useful applications to help enhance their travel experience. These custom-made Expedia travel homepacks allow users to discover a variety of new content at their fingertips when they travel to select cities, said Jay Seo, CEO of Buzzpia. We look forward to working with Expedia to enhance the travel experience for our users by rolling out more and more cities around the globe in the coming months.
Buzz Launcher utilizes the customization features that the Android system offers and empowers users to freely personalize the look of their Android mobile devices. It allows users to openly create and innovate the look and function of their Android device at just the touch of a button. It is the ultimate personalization app with over 500,000 custom homepacks in the Homepack Buzz library.
For Japanese and Korean users, a special Expedia promotional code is available, with promotions for other locations in the works.
Buzz Launcher is available to download for free on the Google Play Store: http://goo.gl/mjQfnb.
About Buzz Launcher

Launched in 2013, Buzz Launcher is a free Android application that empowers users to fully customize and create unique homescreens and widgets for their mobile devices and seamlessly share them with other users. Buzz Launcher has over eight million downloads and is available in over 150 countries in 14 languages, including English, Korean, Japanese, Chinese, Indonesian and German. Buzz Launcher was recently recognized as the best Personalization App for 148Apps Best App Ever Awards and the Best of Best Brand Identity for the Red Dot Awards. Buzz Launchers parent company is Buzzpia, a Daum Communications company.
About Expedia.com

Expedia.com is one of the world's largest full service travel sites*, helping millions of travelers per month easily plan and book travel. Expedia.com (http://www.expedia.com/, 1-800-EXPEDIA) aims to provide the latest technology and the widest selection of top vacation destinations, cheap tickets, hotel deals, car rentals, destination weddings, cruise deals and in-destination activities, attractions, services and travel apps. With the Expedia Best Price Guarantee, Expedia.com customers can get the best rates available online for all types of travel.
Expedia, Expedia.com, Expedia Rewards, Expedia+, +VIP Access, Elite Plus, Find Yours and the Airplane logo are either trademarks or registered trademarks of Expedia, Inc. in the U.S. and/or other countries. Other product and company names mentioned herein may be the property of their respective owners