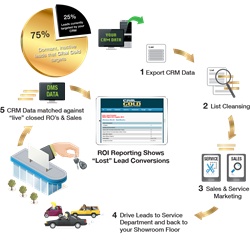 Bradenton, FL (PRWEB) September 24, 2014
Cactus Sky Digital has launched a newly redesigned website for star product CRM Gold. The new website is a fully integrated resource for dealers to learn how to use the program to re-engage leads and drive sales and service revenue.
CRM Gold is the premier lead reactivation service available today. CRM Gold features transparent reporting so dealers can get a complete ROI analysis and see the difference the program makes almost immediately. This real-time reporting is one of the programs most advanced features. Dealers can see how many vehicles were sold, customer sales/service history, closed service department repair orders and revenue generated.
The new website segments CRM Gold into the tiered pricing structure. The packages range from basic entry email to combined dynamic email, social, data appending and retargeting campaigns. This new pricing system allows smaller dealers to afford CRM Gold and gives dealers the chance to try the program and upgrade as necessary. CRM Gold is the industry leader in mobile-enabled emails. Dealers can preview live mobile samples on the new site.
The Pot of Gold Program has led the automotive industry in CRM reactivation program for 3 years, said Peter the Webdoc Martin, President of Cactus Sky Digital, CRMGold will continue to build upon this legacy with an evolved package that includes everything your dealership needs to stay ahead of the mobile marketing curve.
The interactive, multimedia website is making it easier than ever for dealers to learn about the program, read testimonials, schedule a demo and get to know the reporting engine. Visit the new website here: http://crmgold.cactusskydigital.com.
About Cactus Sky Digital

Cactus Sky is a full-service online advertising and public relations agency whose services increase and expand leads, sales and revenue. The company offers: website design, email marketing, online contests, database management, social media, public relations, online advertising, search engine marketing and mobile messaging. Cactus Sky has the largest consumer and business opt-in email database in the industry To learn more about Cactus Sky Digital and its marketing solutions visit: http://www.cactusskydigital.com.