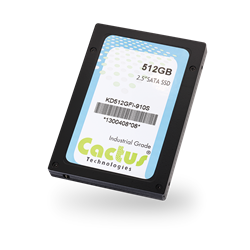 Winter Springs, FL (PRWEB) June 24, 2014
Cactus Technologies, Ltd. today released the new 910S Series Industrial Grade 2.5 SATA III SSD. Designed for demanding applications, it is based on high reliability SLC NAND and Cactus industrial grade controller technology.
Support for ATA generation I, II and III transfer rates of 1.5, 3.0 and 6.0 Gbps ensures high performance. Available in capacities from 64GB to 640GB the 910S SLC SATA III SSD meets a wide range of Industrial OEM requirements.
Sai-Ying Ng, President of Cactus Technologies Ltd. remarked, The 910S 2.5 Industrial Grade SATA III SSD provides the highest reliability data storage in the market. It is designed for mission critical applications where failures cannot be tolerated.
The Cactus Technologies 910S Industrial Grade 2.5 SATA III SSD offers the following features: