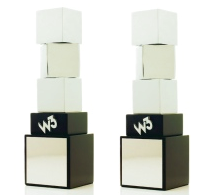 Durham, NC (PRWEB) November 12, 2014
Caktus Group, the nations largest Django web application firm, has won two 2014 W3 Silver Awards for Creative Excellence on the Web. The prestigious awards were given in recognition of Caktus homepage redesign and the 2014 design of the DjangoCon site, the premiere US Django developer conference.
"We're honored to be recognized for our creative skills. We feel very fortunate to have a great team of talented project managers, developers, and designers and are incredibly proud of their continued accomplishments," said Colin Copeland, Chief Technology Officer of Caktus Group.
Director Linda Day of the Academy of Interactive and Visual Arts (AIVA), the sponsors of the W3 Awards, said, "We were once again amazed with the high level of execution and creativity represented within this years group of entrants. Our winners continue to find innovative and forward-thinking ways to push the boundaries of creativity in web design.
The W3 Awards honors creative excellence on the web, and recognizes the people behind award- winning sites, marketing programs, social content, mobile site/apps and online video. In honoring the best of the Web, the W3 Awards is the first major web competition to be accessible to the biggest agencies, the smallest firms, and everyone in between.
In its ninth year the W3 Awards received over 4,000 entries from Ad agencies, Public Relations Firms, Interactive Agencies, In-house creative professionals, Web Designers, Graphic Designers and Web Enthusiasts.
About Caktus

Caktus is the largest custom Django web application development firm in the US, building web and SMS mobile applications to improve information access and for social good. Major projects include the development of Libya's SMS voter registration system, the first of its kind in the world. Clients include Cox Media Group, UNICEF, International Rescue Committee, and Discovery Communications.
About the Academy of Interactive and Visual Arts (AIVA)

AIVA sponsors the W3 awards. The AIVA is an invitation-only body consisting of top-tier professionals from a "Who's Who" of acclaimed media, interactive, advertising and marketing firms. AIVA members include executives from organizations such as Disney, HBO, Microsoft, MTV, Sesame Workshop, Victorias Secret, Wired, and Yahoo!.