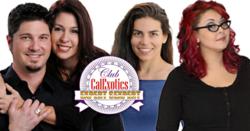 Chino, California (PRWEB) March 21, 2013
California Exotic Novelties, the global leader of innovation in adult novelties, announces the creation of a team of Expert Sexperts on Club CalExotics 2.0. The Love Birds, Jaiya, and Sunny Megatron join the new and improved online community as a team of sexual wellness and intimacy educators.
Susan Colvin, President and CEO of California Exotic Novelties, says, Our number one goal is to promote sexual health and wellness, everything we do at California Exotic Novelties revolves around that concept. With that in mind, were proud to announce our new team of Expert Sexperts, which includes some of the most talented, prolific sex educators of our time.
The CalExotics Expert Sexperts are featured in the companys popular online community, Club CalExotics. Their mission is to educate consumers about sexual health and intimacy through blog posts, forum discussions, online videos, workshops and more.
The Love Birds, Chuck Bird, Ph.D., IMH, RN and Jo-Ann Bird, Ph.D., LMHC, CCBT, are a husband and wife team.
As board certified clinical sexologists and relationship counselors, they are realists, but also optimists, who believe that love can conquer all as long as couples are honest with each other and themselves.
"Were so excited to be Expert Sexperts for CalExotics! CalExotics shares the same the passion and goals as we do, which are to promote sexual health, intimacy and sex-positivity. Sex is used in the mass media to sell everything from cars to beer to clothes and everything in between, yet many people still have trouble talking openly about sex without feeling embarrassed or inhibited. We hope to help with that!" says Chuck and Jo-Ann Bird.
The Love Birds featured role will be as moderators on the Expert Advice Forum on Club CalExotics. More about their extensive experience and credentials can be found on their profile page.
Jaiya is an award-winning somatic sexologist and the author of the best-selling books Blow Each Other Away and Red Hot Touch. She is also the founder of New World Sex Education, a company dedicated to using quality sex education to help men and women get the sex lives they desire.
"My mission is to help shift the cultural view of sexuality from something bad, wrong or shameful, to something that is cultivated and celebrated around the world. I believe that quality sex education is one way of fulfilling that mission, thus bringing people more pleasure and deeper connection. Joining forces as an educator with CalExotics, a company with worldwide reach that also strives to empower and educate, is an exciting opportunity to help people around the world unleash sexual ecstasy!" says Jaiya.
Jaiya will be the host of a new video series to be premiered on Club CalExotics. For more information about Jaiya, visit her profile page.
Sunny Megatron is a sexuality educator, public speaker, sex blogger and pleasure advocate. She guest lectures at universities and teaches at public and private venues across the country.
Im thrilled to be working with CalExotics! My lifes work is dedicated to normalizing diverse forms of sexuality and sexual expression. Throughout the last two decades CalExotics has been a major player in shifting public perception of sex toys from something giggle-worthy to something normal and healthy. We have the same vision and make a great team. Im looking forward to all the wonderful things well be doing together! says Megatron.
Sunny Megatron will produce product video reviews with a fetish-emphasis that will be featured on Club CalExotics. For more information about Sunny, visit her profile page.
Al Bloom, Director of Marketing for California Exotic Novelties, says, The new team of Expert Sexperts represent an array of different backgrounds, philosophies, and experiences, which helps diversify our message. We offer so many different types of lifestyle brands and collectionssomething for everyonethat it makes sense to have an entire network of sexual wellness educators who can cover a vast array of topics.
Club CalExotics is also being taken to the next level as the company unveils Club CalExotics 2.0. The revamped online community has a fresh look and an intuitive layout that creates a more user-friendly experience. It has new features which will be rolled out over the next several weeks, including a weekly video series on intimacy, interactive polls, a monthly newsletter, and more.
Jackie White, Vice President of Sales for California Exotic Novelties, says, We want our customers to reap the benefits of Club CalExotics 2.0 and take advantage of the education our new Expert Sexperts offer. Use our content to train store employees, to interact with consumers, network, and for social media engagement. Retailers should make sure they are registered in the Where to Buy section since Club CalExotics offers this resource to consumers.
Club CalExotics is entering its second year and now boasts nearly 1500 members. The monthly traffic regularly tops 4000 visitors.
Desiree Duffie, Director of Public Relations for California Exotic Novelties, says, Launching the Club CalExotics 2.0 platform is exhilarating, like watching a dream come true. As Club CalExotics continues to grow well keep promoting it through a variety of marketing and PR channels. Its our way of bridging the gap between the manufacturer and the consumer, which helps everyone come together. Watch for even more in the coming months!
Members of the pleasure product industry are invited to join and interact on Club CalExotics. To explore, visit http://www.ClubCalExotics.com.
About California Exotic Novelties

California Exotic Novelties is the nations leading manufacturer of adult toys and novelties. Since 1994 the company has been at the forefront of research and development of products that enhance the sexual experiences of women, men and couples. From its 200,000 square foot operations center in Chino, California, CalExotics maintains a network of manufacturing and distribution facilities worldwide. Its products are available online and from retailers throughout the world.