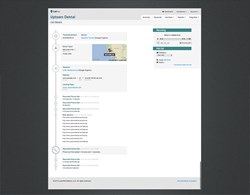 Atlanta, GA (PRWEB) September 20, 2013
CallRail, which helps thousands of businesses optimize their marketing with powerful call tracking software, has announced a new feature that enables clients to view each step in the call tracking process in one convenient and interactive timeline.
"Thanks to our talented and amazing team who has made this happen. This is one more step toward giving businesses the information they need to evaluate and optimize the performance of their marketing campaigns. We're all excited to continue building the most powerful call analytics platform available," said President and Co-Founder of CallRail, Andy Powell.
The new Visitor Timeline allows clients to see how visitors navigate their website before a call is made, what page visitors were on when they called and what actions visitors take on a clients website after theyve called.
"The ability for our customers to see a visitor's entire path through a website before and after the call brings a whole new level of visibility into call analytics. It feels like we've created a superpower for digital marketers," said Powell.
When visitors call the provided call tracking phone number on a clients website, any action the visitor makes on the website as well as the call itself will be tracked through CallRail. When clients view the 'call details' surrounding the call, they will be able to access all of this information in one convenient timeline.
About CallRail
CallRail is a call tracking platform that brings enterprise-level call analytics to businesses and agencies. CallRail makes it easy to track which marketing sources and keywords make your phone ring. We provide call tracking, recording, and analytics for PPC, SEO, web, and offline marketing campaigns. With CallRail, you can create tracking phone numbers instantly, get reports in real time, and increase your advertising ROI by learning which campaigns and keywords deliver valuable phone leads.