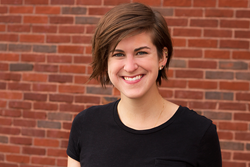 Portsmouth, NH (PRWEB)
June 30, 2015
Calypso Communications, an integrated, full-service public relations, marketing, and creative design firm recently welcomed Lauren Smith to the team as a public relations account executive. Smith will develop PR strategies for Calypsos clients and will provide advanced-level writing, media relations, social media, and project management services.
To support our rapid growth and commitment to diverse client needs, we added a team member to develop and execute PR strategy while simultaneously delivering top-level client service, said Houssam Aboukhater, managing director at Calypso. Lauren has the PR experience, creative background, and B2B knowledge necessary to jump in and provide the high-level, strategic guidance expected from our organization. Were thrilled to welcome her to the team.
Prior to joining Calypso, Smith worked for the manufacturing and technology practice at PadillaCRT, a PR agency headquartered in Minneapolis, MN. While in the Midwest, she supported marketing and communications initiatives for a wide range of business-to-business clientele. She focused on developing relationships with media in key vertical industries, budget and project management, content development, and social media guidance for clients such as Rockwell Automation, SAP, Ditch Witch, the Minnesota High Tech Association, Cargill, the National Mango Board, and the Hass Avocado Board.
Lauren earned two bachelors degrees, in creative advertising and American history, with a minor in graphic design, from Drake University in Des Moines, Iowa. When not at Calypso, she can be found hopelessly trying to complete The New York Times crossword puzzle, eating popcorn, or exploring her new home state of New Hampshire.
About Calypso Communications

Calypso Communications is an award-winning, integrated strategic marketing, public relations, and creative agency based in Portsmouth, NH, north of Boston. Highly sought after on a national level for its seasoned insight and perspective, Calypso effectively managesand, when necessary, fundamentally transformsclient communications, engaging audiences crucial to driving business. Current Calypso clients include prominent national and global organizations engaged in private equity, healthcare, medical device, power services, renewable energy, and utility sectors. For more information, visit http://www.calypsocom.com.
###