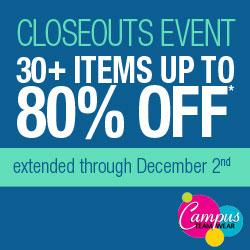 San Diego, CA (PRWEB) November 28, 2012
The 2012 holiday season is here and its a great time to find amazing deals on cheerleading apparel and accessories for the cheerleaders on your list. Campus Teamwear will offer extended sales on closeout products, offering some of the lowest prices of the year on items from their online store through Sunday, December 2, 2012.
Though the mad rush of Black Friday deals is over, shoppers can still expect to find the best prices and deals through the Campus Teamwear online store so customers can shop in the comfort of their home at their own convenience. The sale prices will be available to customers that are signed up to receive Campus Teamwear emails, or that have liked the official company Facebook page. Shoppers will have to click through the sale emails or the ad on Facebook in order to access the sale prices.
This sale offers prices starting as low as $ 1.97 on cheerleading hair bows, $ 2.97 for practice shorts, $ 7.97 for cheer shoes, $ 6.97 for printed tees and tanks, and $ 9.97 for printed cheer hoodies. Shoppers could save up to 80% on their purchases!
The Closeouts Event is the perfect sale for cheerleaders to holiday shop for their cheer family, or for families to holiday shop for their cheerleaders, commented Jessica Rzeszut, Campus Teamwear marketing manager. We decided to extend this event so that everyone has time shop and save. The holiday season is not only busy for people socially, but it is also competition season for our customers, so they may need just a little extra time finish shopping for everyone on their list.
To get more information on cheer deals, and all specials and news, visit http://www.cheerleadingonline.com to sign up for emails promotions and fan the official Campus Teamwear Facebook page.
Campus Teamwear recently launched a wish list feature on their website that allows registered customers to create and share a list of items that they love and want to own.
The wish list feature is so easy to use and share, said Kevin Oskow, web director at Campus Teamwear. We are very excited to offer this feature on our website and give our customers the advantage of passing along their wish list, receiving a wish list or just creating a list of items that they want to purchase for other people.
To make a wish list, visit the website and create an account or sign in with your existing account.
About Campus Teamwear

For over twenty years, Campus Teamwear has supplied cheerleaders with apparel and accessories. The cheer gear retailer guarantees the absolute lowest prices on high-quality items, including uniforms, warm-ups, shoes, pom poms, practice wear, accessories, fundraising items, and body basics. To learn more, please visit the online store.