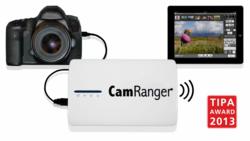 Alexandria, VA (PRWEB) May 07, 2013
Technical Image Press Association singles out CamRanger, a new wireless remote control for Canon and Nikon digital SLRs, as best new digital photography accessory of the year.
CamRanger LLC, creators of a wireless device that connects an iPad, iPhone, or Mac to a Canon or Nikon digital SLR camera, announces that the CamRanger has received the Technical Image Press Associations (TIPA) Best Digital Accessory of 2013 award.
This highly coveted award is given annually by TIPA, which represents 29 photography and imaging magazines from 15 countries across five continents. To qualify, CamRanger had to pass rigorous testing by TIPA members who conduct their own product evaluations to give readers first-hand reviews.
We are honored that CamRanger was singled out by TIPA for the Best Digital Accessory said Dave Pawlowski, co-founder and lead developer for CamRanger. We have worked hard to create an innovative product that meets a real market need and has contributed in creating great photos and videos. This prestigious award acknowledges our achievement in advancing wireless camera control.
CamRanger is a device that can be attached to a Canon or Nikon digital SLR camera to provide wireless remote camera control from an iPad, iPhone, iPod Touch, or Mac computer; a free app is available from the iTunes store. With CamRanger, users can remotely control camera focus using either touch or precision focusing, change most of the camera settings, record and focus video, perform automatic focus stacking or advanced bracketing, and utilize wireless file transmission in client mode with ratings, watermarks and comparison features. Its ideally suited for photographing action and sporting events, wildlife, low-light and nighttime events, macrophotography, or any other photographic applications where comprehensive remote control or remote viewing is valuable.
About the TIPA Awards:

Held every year since 1991, the TIPA European Photo & Imaging Awards have recognized the best photo imaging products announced in Europe during the previous 12 months based on such criteria as their innovativeness, technological power, design, and ease of use. CamRanger is honored to receive its first TIPA award.
About CamRanger:

CamRanger LLC is a newly created company. The co-founders, a husband and wife team, enjoy photography as a hobby and have prior iOS development experience. CamRanger LLC is the merging of these two fields as the iPad specifically, with its large, high-resolution screen, provides an excellent opportunity for improving, simplifying, and enjoying photography. For more information please visit http://www.CamRanger.com.
Copyright (C) 2013 CamRanger LLC. All Rights Reserved. Apple, the Apple logo, iTunes, iPhone, iPod,iPad, and Mac are registered trademarks of Apple Inc. in the U.S. and/or other countries.

###

Dave Pawlowski

Co-Founder and Lead Developer

740-215-8599