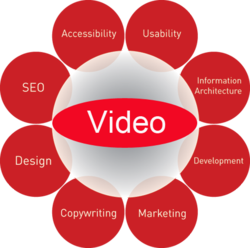 Toronto (PRWEB) May 30, 2013
At a time when many marketers are saying that video is replacing print as the go-to medium for consumers, Gravelsins Bonsell is betting that more than ever, video and print are working together and here to stay. The company is the one of the first content marketers to meld video with various static print-driven media (such as PDFs) and Search Engine Optimization (SEO) strategies for clients who want to reach out to global markets.
To get around constant changes to algorithms, search features and spam detection, the company's SEO team also uses advanced personality based social-web bot technology to harvest SEO market matrix data, and to accelerate coverage by independent bloggers, posters and mainstream media
By embedding video into PDF sales collateral, web 2.0 press releases, microsite pages, PowerPoint presentations and SEO methodologies, the Toronto-based creative content studio is able to achieve Search Engine Results Page (SERP) dominance along with incoming inquiries for its clients.
After a 12 month integrated Video SEO and Video PR campaign for Mobile Innovations Corporation– an enterprise app maker — Gravelsins Bonsell Studio was able to attain audited monthly averages of 60,000 impressions, 800 page reads and 260 downloads / forwards for its client. Simultaneously, the client consistently enjoyed multiple top-of-page unpaid SERP appearances for all of its top tier search terms.
What Gravelsins Bonsell does for its clients is actually Search Entity Attraction — of mainstream media, bloggers, feeds and customers as well as bots and spiders — rather than Search Engine Optimization, explains founding partner and Director of Client Services Davis Gravelsins III.
For our B2B clients, we use video press releases as our killer attention getter and main lead-gen driver. Says Gravelsins. The appeal is so immediate and strong that before people click, they often call the number they see below the video clip they've just watched in the release. Then they usually say something like 'I saw your video and want to know more.'
Supporting each Web release with active bot-acquired intelligence, advanced SEO processes, integrated home page video and VideoPDF documents, the Gravelsins Bonsell team accelerates adoption of its clients' stories by mainstream media as much as the blogosphere.
With in-house art direction, art, design, video, writing as well as SEO marketing and client service expertise, Gravelsins Bonsell is a full service creative content studio. Company team members have recently completed assignments for ING Direct, McDonald's, Mobile Innovations and KIA Canada.
For more information, please contact:
Davis Gravelsins Partner, Director Client Services

Direct: 416.706.7669

Email: davis (at) gravelsinsbonsell (dot) com
###
Gravelins Bonsell is an independent, full-service creative content studio with headquarters in Toronto, Canada. We provide visibility and attract business for our clients by offering their individual audience members with the choice of watching, listening to and/or reading fresh, compelling and well-designed messages.