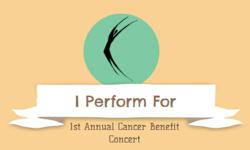 Interlochen, MI (PRWEB) April 05, 2013
Art students in Interlochen, MI, have come together to organize and present a cancer benefit concert, called I Perform For, taking place this Sunday, April 7. The group has announced that the first annual event will stream live on the I Perform For Facebook page at https://www.facebook.com/iperformfor, which is also where viewers can go to make a donation.
All proceeds from the event will benefit the Damon Runyon Cancer Research Foundation. The foundation, which provides funds to the best young scientists to pursue innovative cancer research, was chosen because it is highly effective and efficient. Since 1946, they have invested over $ 260 million in young scientists, including 11 Nobel Laureates and many leaders of major cancer centers across the United States. Because all administrative and fundraising costs are paid through an eternal Broadway ticketing service the organization operates, every single penny donated goes to the scientists and their research.
Viewers who donate online will receive either a pin or wristband. Those who donate $ 1.00 will receive a pin, those who donate $ 3.00 or more will receive a wristband, and those who donate $ 100.00 or more will be named a donor on the I Perform For website. Anonymous donations are also accepted.
To make a donation and stream the performance online, which takes place Sunday, April 7 at 7:30 PM Eastern, please visit the Facebook page at http://facebook.com/iperformfor, or alternatively, viewers can stream the event or donate at http://iperformfor.wix.com/i-perform-for.
About I Perform For

The first annual I Perform For event was created as a way to raise funds for cancer research while showcasing performances by art students in Interlochen, Michigan. All proceeds from the event will go toward the Damon Runyon Cancer Foundation for innovative cancer research. For more information, please visit iperformfor.wix.com/i-perform-for.
Media Contact:

Kat Rudman

I Perform For

240-477-0488

Iperformfor(at)yahoo(dot)com
Meghan McCurdy

Communications and Marketing Manager

Damon Runyon Cancer Research Foundation

Phone: 212-455-0504

meghan.mccurdy(at)damonrunyon(dot)org