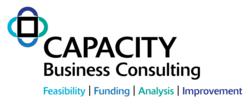 Newburgh, NY (PRWEB) May 10, 2013
When Capacity Business Consulting rebranded earlier this year, they knew how powerful demographics and psychographics are to selling more business. After all, part of what they do for their clients is marketing research and strategy so the investment in advertisements, promotions, and other marketing efforts actually work and their clients make money.
For their own rebrand, Capacity wanted a logo that explained what they do and reflected their core attributes of analytical, confident, detailed, resourceful, organized, and leaders. They also wanted it to speak to their target market and dissuade those who are not their target market. Pretty high expectations for a logo.
Eric Egeland, President of Capacity Business Consulting, states: Our target market is entrepreneurs and business owners who understand the value of doing it right the first time. They know research and planning are the keys to big results, not gut and intuition. And they know hiring experts cost less and gets bigger results, faster. We dont really want to talk to those who arent our target.