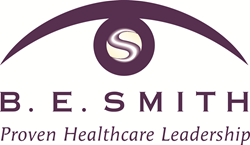 LENEXA, Kan. (PRWEB)
July 01, 2015
B. E. Smith, the only full-service leadership solutions firm dedicated exclusively to healthcare providers, has been retained to lead a national chief nursing officer recruitment for Capital Health in Pennington, N.J. One of the top executive search firms in the healthcare industry, B. E. Smith has recently placed more than 1,000 healthcare executives into organizations.
Capital Health is a two-hospital health system in New Jersey comprised of the new state-of-the-art Capital Health Medical Center Hopewell in Pennington and the Capital Health Regional Medical Center in Trenton. Capital Health also includes an outpatient facility in Hamilton and a comprehensive network of primary and specialty care physicians with practices across the region. Capital Health offers the areas only CyberKnife Robotic Surgery System and the first Da Vinci Surgical System in Mercer County. Capital Health Regional Medical Center is a Joint Commission Advanced Comprehensive Stroke Center. It is the regions only trauma center and state designated regional perinatal center, and operates the mobile intensive care unit and psychiatric emergency screening center serving all of Mercer County. Capital Health is accredited by The Joint Commission and received Magnet status three times in recognition of its quality patient care, innovations in professional nursing practice and nursing excellence.
Capital Health is seeking an energetic nurse executive to lead the system in developing the next level of clinical integration. The chief nursing officer will continue the systems dedicated focus on nursing excellence in Magnet tenets and support of dynamic nursing practices. The CNO will leverage strong financial acumen in driving operating efficiencies and demonstrating value-based purchasing for continued organizational success for healthcare reform. Additionally, the CNO will lead continuous care improvement in a competitive market and creating positive partnerships across the system.
The complete job posting for Capital Healths CNO position can be found on the B. E. Smith website.
About Capital Health:

Capital Health is the regions leader in advanced medicine, with significant investments in innovative technologies and experienced physicians. Comprised of two hospitals in Mercer County and the Capital Health-Hamilton outpatient facility, Capital Health received Magnet Recognition for nursing excellence three times. A growing healthcare organization, Capital Health includes the new state-of-the-art Capital Health Medical Center Hopewell and Capital Health Regional Medical Center. For more information, visit http://www.capitalhealth.org/.
About B. E. Smith:

Founded in 1978, B. E. Smith is a full-service healthcare executive search firm and one of the top-ranked providers of senior-level leadership services including Interim Leadership, Executive Search and Advisory Services. Veteran healthcare recruiters and regional healthcare experts partner with each client to create customized solutions. B. E. Smiths proven methodology has resulted in the recent placement of more than 1,000 leaders into healthcare organizations worldwide. The firm utilizes a comprehensive sourcing strategy incorporating the latest marketing techniques, association partnerships, social networking and one of the largest databases of skilled senior-level nurse executives in the industry to deliver immediate results in todays complex healthcare environment. For more information, visit BESmith.com or call 855-254-8261.