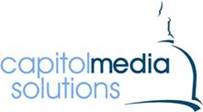 Atlanta, Georgia (PRWEB) August 22, 2012
Inc. Magazine today announced its annual ranking of the 500/5000 fastest-growing private companies in the country. Capitol Media Solutions, headquartered in Atlanta, GA, was listed today as one of Americas fastest growing private companies by the magazine for a second consecutive year. The listing revealed that Capitol Media is ranked number 243 on the 2012 list after being listed at number 239 in 2011. Capitol Media Solutions is ranked #33 in the Advertising and Marketing Category, up from 35 in 2011, and is ranked #8 in the Atlanta area.
"We are so pleased to receive an honor that celebrates both entrepreneurship and the hard work and dedication of our employees," says JT Hroncich, President of Capitol Media Solutions. "We could never have achieved this honor without our amazing customers and valued partners. We look forward to the opportunity to continue providing outstanding service to our valued clients and to our continued growth in the coming year."
The Inc. 500/5000 list is the most comprehensive look at the most important segment of the economy Americas independent-minded entrepreneurs. Complete results of the Inc. 5000, including company profiles and a list of the fastest-growing companies that can be sorted by industry and region, can be found at http://www.Inc5000.com. To view Capitol Media Solutions profile on the list, visit: http://www.inc.com/inc5000/profile/capitol-media-solutions
About Capitol Media Solutions: Capitol Media Solutions is a full-service media firm specializing in media strategy, planning, and buying for all industries. The CMS team customizes strategic and ROI-driven media campaigns for its clients in all mediums from traditional (TV/Cable, Radio, Print, Outdoor, Out-of-Home) to digital (Mobile, SEM/SEO, Display, Social). Capitol Media Solutions currently works both directly with brands and in partnership with marketing communications firms looking to leverage specialty media services to clients. For more information on how Capitol Media Solutions can help meet your advertising needs, please visit http://www.capitolmediasolutions.com or call 1-800-517-0610 to schedule a consultation.