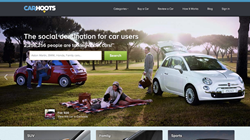 San Francisco, CA (PRWEB) September 19, 2013
Carhoots, the community and marketplace startup that connects car users with quality content, reviews and recommendations has arrived in Silicon Valley to be closer to their 80% American user base. The move comes after closing a $ 240,000 seed round in June after the startup graduated from UK based Oxygen Accelerator program.
The startup aims to empower car buyers to make more informed decisions by providing them with all the resources they need in one simple, fun and social destination and is looking to build on its social foundations after successfully amassing over 2 million followers on popular photo sharing site Pinterest. With organic growth at a rate of over 30% in the last 6 months they are now focused on product development and rolling out several exciting new features having just expanded its team from three to seven worldwide.
Founder Lee Malcher commented:
Were really excited about focusing on product, improving our users experience and continuing our growth over the next few months. The site we built late last year whilst on Oxygen Accelerator was hacked together by our CTO and we had the interesting challenge of having 80,000 monthly users engaging with a platform that was only 15% complete. Now we can begin providing our users with the car research experience they deserve.
On expanding into the larger and more competitive U.S market and in particular Silicon Valley, Lee added:
Our plan was always to expand into the U.S market eventually, it just so happens weve had to do it sooner rather than later. Moving to Silicon Valley can be compared to an actress moving to Hollywood, of course the competition is tougher and the pressure is higher but theres also an abundance of opportunity. The automotive market is far bigger in the U.S and ripe for disruption.
Carhoots recently rolled out its user profiles and improved search result features including video content to add to the expert reviews and social recommendations already on the site. It will soon be releasing a marketplace where buyers can search through millions of new and used cars for sale, dealership reviews, a gamification and badge system where users are rewarded for helping the car buying community and a mobile app. Founded in 2012 it is backed by private angel investors and its advisors includes ex Yahoo Autos senior directors.