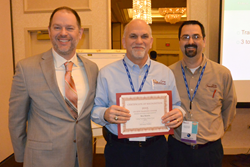 Frisco, TX (PRWEB) April 28, 2015
The local Caring Transitions franchise in Frisco, Texas, has been recognized as the Caring Transitions companys national Trailblazer.
To be recognized with the Trailblazer Award which is only given to one of the more than 150 franchisees across the country each year the owner has to have created paths for others to follow in the areas of marketing, sales and operations. In doing this, the franchisee has been able to build a solid foundation for a successful business that can be duplicated, contributing to the growth of the Caring Transitions system. This year that recognition went to Rex and Nancy Norris, the owners of Caring Transitions of Frisco.
In 2014, Rex and Nancy increased their business by 62 percent, and, as a result of their performance, volume and top quality product, Caring Transitions of Frisco was added as one of our On-Site Training Centers. They are regularly involved with training classes and in the on-site training process as well as the Caring Transitions Accelerator test groups. Rex and Nancy continue to set an example for Caring Transitions Offices to follow, which is why they were named this years Trailblazers, Caring Transitions President Chris Seman said.
Caring Transitions is Americas largest resource specializing in managing relocations for seniors and busy families as well as downsizing and estate liquidations. In addition to the organizing, packing and move oversight, Caring Transitions can handle on-site and online estate sales, liquidations, and preparing homes for market. Caring Transitions of Frisco serves Prosper, The Colony, Little Elm, Denton, Lewisville, Carrollton, Flower Mound, Corinth and the surrounding North Dallas suburbs.
It is an honor to win this award, which reflects my personal desire to try new things to make my office more profitable. I hope being a Trailblazer and setting certain examples will also help other offices be more profitable in their communities too, Rex said. That said, in my more than 30 years in senior level management and as a business owner, success is not counted in dollars. For me, its about who you help along the way. In that, I feel weve been successful.
I do not like awards or recognition for accomplishments, since our accomplishments are thanks to the hard work of my employees, but our entire team is honored to be called Trailblazers. I would really like to thank my team for all their hard work in making this possible, Rex added.
Prior to opening Caring Transitions, Rex spent 31 years in logistics. He knew he wanted to work with seniors about eight years ago and, when the timing was right in 2012, he and his wife Nancy found Caring Transitions.
Basically a big part of Caring Transitions is getting things from point A to point B in a caring way. Thats logistics. With my background in project management and logistics, I knew it would be a good fit, he added.
Caring Transitions is a trusted and highly respected national company leading the way in senior relocation, household liquidations and estate sale management in more than 150 locations across the United States. Caring Transitions is part of the International Franchise Association, the Small Business Associations Franchise Registry, VetFran and Minority Fran.
For additional information about Caring Transitions of Frisco and to learn how the company can help you and your family, call (469)275-4875, email RNorris(at)CaringTransitions(dot)net, or visit http://www.EstateMoveFriscoTX.com.
About Caring Transitions

Caring Transitions, founded in 2006, is the first national franchising concept specializing in senior relocation and transition services. With more than 150 locations throughout the United States all owned and operated by Certified Relocation and Transition Specialists, Caring Transitions provides clients with supportive moves, auctions, rightsizing and transitions. This includes expert advice plus a well-executed transition plan beginning with the initial sorting of personal belongings through packing, shipping and selling of items to the final clearing and cleaning of the property. For more information, visit http://www.caringtransitions.com or visit us on Facebook or Twitter.
Caring Transitions is part of Strategic Franchising Systems. It is a member of the International Franchise Association, the Small Business Associations Franchise Registry, VetFran and Minority Fran.