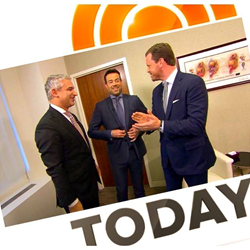 (PRWEB) November 26, 2014
To show the importance of mens health in November, Today Show team members, Carson Daly and Willie Geist, agreed to have testicular screening exams performed live on the show by Dr. David Samadi, M.D.
View the segment on YouTube: http://goo.gl/zWOY37
Last year it was Matt Lauer and Al Roker who received their screenings from Dr. Samadi, and this year Carson and Willie stepped up to the plate. The balls in his court!, Dr. Samadi joked as he entered the exam room with Carson Daly. While the experience was light hearted and full of humor, everyone took their turn to note how important the prescreening process is to reducing undiagnosed prostate cancer and ultimately saving lives. As Dr. Samadi stressed; the testicular prescreening can be self performed, is painless, and only takes about 30 seconds to conduct.
The team also took time to recognize the important role that women play in encouraging men to maintain proper health awareness and push them to visit the doctor for regular testing and checkups. It is crucial for men between 20-40 years old to conduct self screening because the average age of testicular cancer diagnosis is 33 years old. Testicular cancer has a 95% survival rate when the cancer is detected early and as a prostate cancer survivor, Scott Hamilton, commented; early detection is still the best cure for cancer. That message represents the core of the #movember & #noshavenovember campaigns.
Dr. David Samadi, M.D is a board certified urologic oncologist trained in open traditional and laparoscopic surgery and is an expert in robotic prostate surgery. He is Chairman of Urology, Chief of Robotic Surgery at Lenox Hill Hospital, Professor of Urology at Hofstra North Shore-LIJ School of Medicine. He has dedicated his distinguished career to the early detection, diagnosis and treatment of prostate & testicular cancer and is considered one of the most prominent surgeons in his field.
Connect with Dr. David Samadi, M.D:

Website: goo.gl/Q9jrN9

Facebook: goo.gl/222oWw

Twitter: goo.gl/VFKdsn