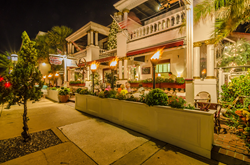 (PRWEB) July 31, 2014
The Casablanca Inn chose to partner with Hotel Internet Strategies for the design and development of its consumer-facing website. As a small, luxury guesthouse, in the heart of a highly competitive tourist area, Casablanca Inn is acutely aware of their need to maintain a strong online presence.
In redesigning the website, the goal was to create a smoother booking process for guests. To this end the site leverages responsive design technology to provide a seamless experience across multiple devices, while allowing for single dashboard management. Hotel Internet Strategies also worked closely with the inn to capture the beauty of this historic inn, while aligning the site with that of the Casablanca Inns sister property, the Balance Rock Inn.
We are extremely excited about the new CasablancaInn.com website, stated Nancy Cloud, Owner of the Casablanca Inn. Hotel Internet Strategies has done a wonderful job that not only allows us to showcase both of these picturesque hotels, but also allows us to align our online experience, with that of our brand. We couldnt be happier with the partnership.
Hotel Internet Strategies is proud to partner with the Casablanca to create a compelling new experience for its guests, said Chris Guimbellot, Chief Operating Officer at Hotel Internet Strategies. Capturing the inns charm and character was a major goal, and I believe it was accomplished.
About Casablanca Inn
The Casablanca is a lovingly restored 1914 Mediterranean revival situated on Matanzas Bay, offering twenty-two luxurious and uniquely decorated accommodations with all of todays modern amenities. Centrally located downtown on the bayfront, the Casablanca Inn is an ideal destination for those wanting to discover all St. Augustine has to offer. Listed on the National Register of Historic Places, the Inn promises to transport you to a gentler time, amidst cool ocean breezes and tropical palms. Step up from historic Avenida Menendez, through the ornate gold topped columns of the Inn, to be greeted with antique-filled common areas. Elegant comfort that awaits you in luxury accommodations, located in the Main House, Coach House, and also privately tucked away in a landscaped courtyard in the rooms at The Secret Garden. As a Casablanca Inn guest youre pampered with incomparable lodging, amenities and service, a wonderful vacation destination for every time of year.
With a history of hospitality, spectacular scenery, and innate charm Casablanca Inn has it all!
About Hotel Internet Strategies
Founded in 1996 by a career hotelier, with the goal of helping hotel owners and operators navigate the then fledgling world of internet marketing. Today, Hotel Internet Strategies still uses that same formula. With nearly 40 years of combined experience in the travel industry, from hotel management, to franchising, even travel agent operations, we understand the unique needs of the hotelier. As specialists in full-service internet marketing, its this understanding that allows us to create a comprehensive, focused, marketing package. Let us put our full array of services, including website design and hosting, search engine optimization, search engine marketing, social media marketing, email marketing, and more, to work for you. For more information, please visit http://www.hisinteractive.com.