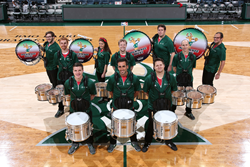 New Berlin, WI (PRWEB) January 06, 2015
NBA fans in Milwaukee are getting ready to enjoy the Milwaukee Bucks Beats Drumline once again. Sponsored by Cascio Interstate Music, Wisconsins largest musical instrument retailer, the 13 to 17-member percussion ensemble will bring high-energy performances to upcoming key Bucks home games.
Their first performance of the season will be on Friday, January 9th at 7:30 pm against the Minnesota Timberwolves, at the BMO Harris Bradley Center. Whether in the concourse, on the court or even in the stands, Bucks Beats brings thunderous energy to the game.
"Cascio Interstate Music is proud to have reached an agreement with the Milwaukee Bucks for the remainder of the 2014-15 season, as well as the 2016-17 season to again sponsor the Bucks Beats Drumline," said Michael Houser, CEO of Cascio Interstate Music. "We feel the drumline not only offers high energy entertainment at the BMO Harris Bradley Center, but also helps inspire musicians and would-be musicians to enjoy the power and excitement of playing a musical instrument in a live performance setting."
Known previously as the Bucks Wild! Drumline prior to 2013, the performers for Bucks Beats are selected via an open audition each season, advertised exclusively on http://www.bucks.com. The group features from 13 to 17 percussionists on snare drums, tenor drums, bass drums and cymbals. Cascio Interstate Music outfits the entire squad with high-end Pearl drum equipment and instruments, and also features Remo Drumheads, plus Pro-Mark and Vic Firth.
Cascio Interstate offers a wide selection of products via its music website and at its Milwaukee music store, with musical instruments ranging from drums to guitars to wind instruments to keyboards, accessories, DVDs & music songbooks.
Cascio Interstate Music ranks in the top 20 nationally among musical instrument retailers as well as being one of the nation's top drum dealers. Cascio provides musical instruments and accessories to musicians of all ages, including music educators and music professionals worldwide. Cascio began in 1946 in West Milwaukee as a small teaching and accordion studio owned by Frank Cascio, the son of Italian immigrants.
Today, over 100,000 musical products are marketed nationwide via catalogs and online, and locally at their SuperStore in New Berlin, Wisconsin. For Wisconsin musicians, their Milwaukee music store offers private music lessons, free educational clinics, musical instrument rentals, musical instrument and electronic repair, and more. Cascio also manufacturers their own company-designed brands of guitars, drums and band instruments Archer, Union and Ravel for consumers, major online retailers and schools worldwide.