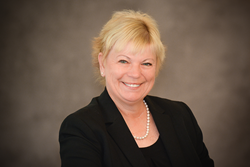 LENEXA, Kan. (PRWEB)
June 30, 2015
B. E. Smith has hired Cathi Blise as vice president, leadership advisor for the firms Interim Leadership and Advisory Services division. An accomplished healthcare executive with more than 35 years of clinical experience, Blise will assume her new duties at B. E. Smith immediately.
Blise will lead a number of interim and consulting executives nationwide who focus on providing leadership solutions for B. E. Smith clients. Her successful track record in healthcare includes leadership positions at a wide range of providers from large health systems and academic medical centers to rural and community hospitals. As vice president, leadership advisor, Blise will support healthcare providers in Wisconsin, Minnesota, North and South Dakota, Montana, Wyoming, Utah and Idaho.
Cathi brings extensive clinical experience and proven expertise in patient satisfaction, mentoring, recruitment and retention, said Colleen Chapp, senior vice president of Interim Leadership and Advisory Services at B. E. Smith. Her collaborative leadership style will be a valuable asset and resource for our clients and interim leaders.
Prior to joining B. E. Smith, Blise served as a B. E. Smith interim leader, directly assisting organizations with immediate leadership solutions. In her most recent engagement, she served as interim chief nursing officer at Wesley Medical Center in Wichita, Kan. Previously, she held vice president and chief nursing officer roles with St. Anthonys Medical Center in St. Louis, Mo., Wyoming Medical Center in Casper, Wyo., and Lakeview Hospital in Bountiful, Utah.
I am excited to join the premier interim leadership service in the healthcare industry and look forward to supporting B. E. Smiths talented team of experienced interim leaders, said Cathi Blise, vice president, leadership advisor for B. E. Smith.
Blise is currently completing a Doctoral in Nursing Practice at Southern Illinois University Edwardsville. She earned a Master of Science in Administrative Medicine from the University of Wisconsin and a Bachelor of Science in Nursing from Alverno College in Milwaukee. Blise is a member of the American Organization of Nurse Executives (AONE), the American Nurses Association (ANA), Missouri Organization of Nurse Leaders (MONL), the American Association of Critical-Care Nurses (AACN) and Sigma Theta Tau Nursing Honor Society.
Blise can be reached at cblise(at)besmith(dot)com.
About B. E. Smith:

Founded in 1978, B. E. Smith is a full-service healthcare executive search firm and one of the top-ranked providers of senior-level leadership services including Interim Leadership, Executive Search and Advisory Services. Veteran healthcare recruiters and regional healthcare experts partner with each client to create customized solutions. B. E. Smiths proven methodology has resulted in the recent placement of more than 1,000 leaders into healthcare organizations worldwide. The firm utilizes a comprehensive sourcing strategy incorporating the latest marketing techniques, association partnerships, social networking and one of the largest databases of skilled senior-level healthcare executives in the industry to deliver immediate results in todays complex healthcare environment. For more information, visit BESmith.com or call 855-254-8261.