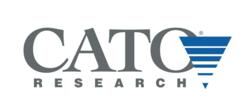 Durham, NC (PRWEB) November 08, 2012
Cato Research expert William Lee, Ph.D., R.A.C., Vice President of Regulatory Affairs at Cato Research will present at BIT's 10th Anniversary of International Drug Discovery Science and Technology at the Nanjing International Expo Center Jinling Convention Center (JLCC) in China.
Dr. Lee's presentation is titled: "The Role of Contract Research Organizations in the Development of Drugs for Pharmaceutical Companies and Biotechnology Companies."
Presentation Abstract:

As developing innovative drugs gets ever more expensive, pharmaceutical companies seek to both reduce cost and accelerate the pace of drug development. To accelerate drug development and make more efficient use of precious capital, more and more pharmaceutical companies turn to contract research organizations (CROs). CROs can reduce the overhead cost of pharmaceutical companies by eliminating their need for hiring and training expensive in-house technical drug development personnel. Instead they utilize only certain services of the CRO and only when they need these services. These services may include interactions with the FDA, monitoring clinical trials, medical writing, statistics, data management, and consulting on manufacturing and preclinical services. Besides reducing the overhead cost of pharmaceutical companies, the CROs offer the advantage of deep experience. The CRO technical staff would have worked on many projects in a particular area; this reservoir of experience in dealing with the regulatory authorities, clinical trial sites, toxicology studies and drug manufacturing prevents mistakes often seen with an inexperienced pharmaceutical company.
For more information about this event, please visit:

http://www.cato.com/events.shtml
About Cato Research

Founded in 1988 by Dr. Allen Cato and Lynda Sutton and headquartered near Research Triangle Park, North Carolina, Cato Research is a full-service contract research and development organization providing strategic and tactical support for clients in the pharmaceutical, biotechnology, and medical device industries. Services range from design and management of preclinical and clinical studies to submission of regulatory documents required for marketing approval. With a staff of approximately 300 and offices located in the United States, Europe, Canada, Israel, and South Africa, the Cato Research team consistently demonstrates an unsurpassed level of responsiveness, flexibility, attention to detail, and passion for bringing their clients products to market with speed and cost effectiveness.
For more information, please contact:
Cato Research

Phone: 919-361-2286

http://www.cato.com
# # #