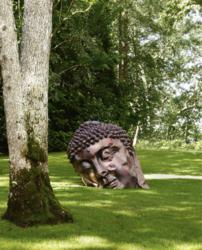 GRAND RAPIDS, Mich. (PRWEB) May 17, 2013
Frederik Meijer Gardens & Sculpture Park is honored to feature the work of Chinese artist, Zhang Huan in the summer exhibition, Looking East, Facing West: The World of Zhang Huan, which opens to the public May 24. This retrospective features the profound yet diverse work of Huan and will remain on display until August 25.
Seen as one of the most prodigious and insightful artists today, Huans compositions as a sculptor, painter, photographer and installation artist encompass themes of Chinese history and spiritual tranquility. His work has helped bring Chinese art to the forefront of the international art world.
Zhang Huan is among the most important voices in Contemporary art today, said Joseph Becherer, vice president and chief curator. From his vantage point working in China and the United States, he offers insight and inspiration for the global cultural community."
Looking East, Facing West: The World of Zhang Huan explores the work of the artist both thematically and artistically. Works of sculpture are central to the exhibition and are inspired by historical models and antique fragments of Buddha-related imagery. Several photographic installations document Huans performance pieces, some of which have helped to establish his reputation in the United States. Touching on the importance of Buddhism in his life, the artists revolutionary ash paintings are composed of discarded incense ash from temple sites in and around Shanghai.
Meijer Gardens is thrilled to present an exhibition so distinctly composed of such diverse media- the first of its kind in the American Midwest – that focuses merited attention on the master, said Becherer.
Huans steel and copper sculpture, Long Island Buddha is not only a featured piece in Looking East, Facing West: The World of Zhang Huan, but its recently been acquired by Meijer Gardens.
This exhibition is made possible by: The Daniel and Pamella DeVos Foundation, The Meijer Foundation, the Botanic and Sculpture Societies of Frederik Meijer Gardens & Sculpture Park, Aquinas College, Grand Rapids Community College and the Pace Gallery, New York, London and Beijing. It is organized by Meijer Gardens in cooperation with the artist and Pace Gallery, New York, London and Beijing.
Exhibition Programming
Perspectives, June 7, 12 p.m.

Walk through the galleries with three staff members as they explore Looking East, Facing West: The World of Zhang Huan from their own perspectives. Discover interesting personal interpretations of sculpture that you may have never considered before. Feel free to participate in the discussion; it is not necessary to be an art expert to find deeper meaning in art.
Gallery Walk, June 11, 7 p.m.

Join Calvin College Professor, Craig Hanson as he presents a fascinating introduction into the contemporary Chinese art with a fully illustrated lecture. Then move to the Sculpture Galleries as he relates his art historical perspective on the work in the exhibition.
Gallery Walk, June 18, 7 p.m.

Walk through the galleries with Author and Interfaith Dialogue Association Speaker, M. John Stella. Discover the unique and thought-provoking work of Chinese artist Zhang Huan from a scholar who has lived and practiced Buddhism and meditation in monasteries throughout Asia. Share your own thoughts and questions about the sculptures.
Curators Choice, August 6, 7 p.m.

Experience Looking East, Facing West: The World of Zhang Huan through the eyes of Chief Curator, Joseph Becherer. Walk through the exhibition and learn more about this fascinating and innovative artist.
Images available upon request. View thumbnails: http://www.meijergardens.org/media/scms/IMAGES_Huan.pdf
About Zhang Huan
Based in Shanghai, Chinese artist Zhang Huan (b. 1965) is among the most prodigious and insightful artists working today. Born in Anyang, Henan Province in central China, he was sent to live with his grandmother in the countryside until age eight. His talent for drawing was discovered in elementary school leading to art lessons and summer camps. Zhang Huan studied painting in the style of Soviet Realism at Henan University in Kaifeng City then moved to Beijing for advanced studies in oil painting at the Central Academy of Fine Arts. Here, he was first exposed to western forms of Contemporary art, including conceptual and performance art, which revolutionized his work and diversified its forms. He addressed politically charged themes and came to realize his own body could be used as a form of expression. In 1998, he moved to New York and continued his performance work, which often focused on the subject of the EastWest dichotomy, and being an outsider in a new culture. His efforts were met with widespread critical acclaim. However, being away from his homeland left him longing to connect with his heritage. In 2006, he returned to China with his young family, established a studio in Shanghai, and ended his performance work but maintained a highly conceptual approach to his sculpture, painting and installations.
About Frederik Meijer Gardens & Sculpture Park
One of the worlds most significant botanic and sculpture experiences, Frederik Meijer Gardens & Sculpture Park serves more than 550,000 visitors annually. Meijer Gardens was recently ranked in the top 100 most-visited art museums worldwide by Art Newspaper, the leading publication in global art news. The 132-acre grounds feature Michigans largest tropical conservatory; one of the largest childrens gardens in the country; arid and Victorian gardens with bronze sculptures by Degas and Rodin; a carnivorous plant house; outdoor gardens; and a 1900-seat outdoor amphitheater, featuring an eclectic mix of world-renowned musicians every summer. The internationally acclaimed Sculpture Park features a permanent collection including works by Rodin, Serra, Oldenburg, Moore, Bourgeois and Plensa, among others. Indoor galleries host changing sculpture exhibitions with recent exhibitions by Picasso, Degas, di Suvero, Borofsky, Calder and Dine.