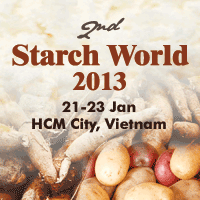 Ho Chi Minh City, Vietnam (PRWEB) December 18, 2012
[2nd Starch World 2013 summit, organized by Centre for Management Technology, explores the present market and trade dynamics in the global starch based derivative markets including possible value addition modalities.
While channeling attention to alternatives, such as potato and cassava, and solutions that are needed to enable the industry to tackle challenges in supplies, product quality and pricing, the summit will feature leading experts, including Mr. Martin Todd, Managing Director of LMC International Ltd, sharing his views on cassava starch its role, major producers, competitiveness as well as price dynamics and its impacts on downstream applications. The summit also analyzes prospects and outlook for Myanmar, Vietnam, Cambodia, Indonesia, Australia and India.
A separately bookable workshop on CASSAVA Agronomy Practices & Pest Management designed to accelerate knowledge of the food crop which is quickly growing in popularity due to its climate-resistant characteristics and a site visit to Vedan Internationals modified starch factory offer additional value proposition to the summit.
Keeping in tune with the highly successful Cassava Starch World 2012 summit that saw over 100 delegates, the upcoming 2nd Starch World 2013 is poised to be a vital starch industry platform.
More information on the summit is available here: http://www.cmtevents.com/aboutevent.aspx?ev=130106&.
For enquiries, please contact Ms. Maureen at maureen(at)cmtsp(dot)com(dot)sg or 65 6346 9145.