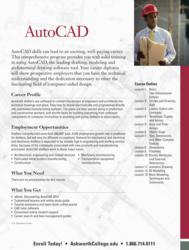 Norcross, GA (PRWEB) February 27, 2013
Ashworth College, one of the leading accredited online colleges, recently included the AutoCAD career diploma program into its growing list of certified programs. Students now have the option to take the Autodesk AutoCAD Certified User Certification exam after graduation. Ashworth College covers the cost of the practice exams and user certification exam in the price of the AutoCAD training online course itself – at no additional charge for the student.
In order to ensure the success of its graduates, Ashworth College (http://www.ashworthcollege.edu) developed its certified AutoCAD training online course around the skills necessary to working in the design field. By understanding important drawing tools including circles and drawing aids, object snap, isometric drawing and modeling, students enrolled in the Auto CAD program will have the knowledge needed to succeed in this industry.
Men and women trained in AutoCAD are pertinent to a variety of career fields including the construction, architecture, manufacturing, and product development industries, said Dr. Leslie Gargiulo, Ashworth Colleges Chief Academic Officer. The career opportunities for an AutoCAD drafter that has both an accredited career diploma and a certification from a renowned program like Autodesk, should offer many positive benefits for our graduates.
Dr. Gargiulo went on to cite U.S. Department of Labor statistics that projects considerable employment opportunities for those trained in AutoCAD. The number of jobs for AutoCAD drafters is expected to increase by 11,400 career openings by 2020 – meaning there will be an estimated 216,500 opportunities for drafters. For those who have certifications, the odds of finding a job should be favorable.
Ashworths Online Certified AutoCAD Training Online Course
The Ashworth College certified AutoCAD training course is comprised of 13 comprehensive online lessons that are available in an eBook format and applicable in the real world. Each lesson begins with a subject matter preview and objectives, an introductory note from your instructor, and a vocabulary builder of new words and terms.
In addition to blocks, attributes and external references, lessons also cover: