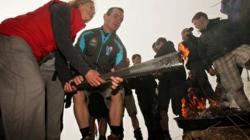 (PRWEB) August 23, 2012
The Paralympic Torch Relay got under way on Wednesday when flames were lit at the summits of the highest peaks in England, Northern Ireland, Scotland and Wales.
The four flames are now on their way to the nations' capital cities – London, Belfast, Edinburgh and Cardiff – where they will each be the focus for a day of celebrations from Friday until Monday.
The celebrations will include a ceremonial cauldron lighting where the national flame will be transferred from a miner's lantern to a torch, and then from a torch to the cauldron.
Thirty-eight communities across the UK will also host their own flame celebrations, sending an ambassador to one of the capital cities to collect part of the national flame.
Friday 24th

The English flame will arrive in London where Claire Lomas, who walked the 2012 London Marathon in a pioneering robotic suit to raise money for spinal research, will light a ceremonial cauldron in Trafalgar Square.
During the day the flame will also visit the Royal Opera House, the Notting Hill Carnival and the Houses of Parliament.
Saturday 25th

The Northern Irish flame will light a ceremonial cauldron outside Stormont in Belfast, followed by various community visits and a flame festival in the evening outside City Hall.
Sunday 26th

The Scottish flame will light a ceremonial cauldron on The Mound in Edinburgh.
The flame festival will include a lantern procession at Meadowbank Sports Centre.
Monday 27th

The Welsh flame will light a ceremonial cauldron outside City Hall in Cardiff.
There will be visits to Rockwood Hospital, House of Sport Coaching Academy and the Live Site, and the flame festival will include a lantern procession in Roald Dahl Plass.
Tuesday 28th

The four national flames will arrive at Stoke Mandeville, the spiritual home of the Paralympic movement, where they will be united in a special ceremony to create the London 2012 Paralympic Flame.
The flame will then embark on a 24-hour overnight relay.
Wednesday 29th

The flame will be carried 92 miles by 580 torchbearers, working in teams of five.
They were selected through public nomination campaigns run by BT, Lloyds TSB and Sainsbury's, as well as the British Paralympic Association, the International Paralympic Committee and other London 2012 sponsors.
The torchbearers will include former boxer Michael Watson and Dame Tanni Grey Thompson.
The route will take the flame through communities in Buckinghamshire and Hertfordshire, before visiting all six host boroughs and a number of London landmarks, including the famous Abbey Road crossing, Lord's Cricket Ground, London Zoo, Piccadilly Circus and Tower Bridge.
It will eventually arrive at the Olympic Stadium in Stratford for the official opening of the Games.


For all your latest news ahead of the 2012 Paralympics, follow @C4Paralympics on Twitter and like the C4Paralympics Facebook page