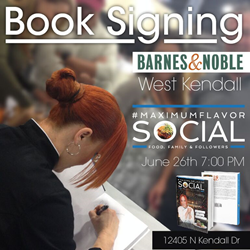 Miami, Florida (PRWEB)
June 24, 2015
Award winning Chef Adrianne Calvo is scheduled to team up with Barnes & Noble this Friday June 26, 2015 for an interactive book signing event for her latest cook book, #MaximumFlavorSocial. Event will feature bite sized portions of her award winning dishes and a Q & A where foodies can get insight on how to add #Maximumflavor into their own kitchen. Event will take place at Barnes & Noble West Kendall located at 12405 N Kendall Dr. Miami, Fl. 33186 at 7PM.
Chef Adrianne will arrive at Barnes & Noble after a whirlwind of a week, which saw her as a celebrity judge at the Grand Cochon presented by Cochon 555 in Aspen, Colorado. Chef Adrianne was in good company as she along with Travel Channels Andrew Zimmern chose the winner of the yearlong competition to find the chef who prepares the best whole Heritage Breed Pigs.
Chef Adrianne has not stopped for a moment. But as she puts it, She wouldnt have it any other way. The book signing at Barnes & Noble will mark the beginning of a crowded schedule for Chef Adrianne to include special events, charitable functions, and of course, amazing food. Stay tuned for more exciting news, dates and events featuring one of Miamis most recognized female chefs!!
ABOUT #MAXIMUMFLAVOR SOCIAL:

Food It's undeniably become the social media generation's runway supermodel, its glitzy cover girl. Yet long before putting our dinners and desserts on digital display became the norm, the concept of "sharing" a meal symbolized uniting and bonding as friends or family. In #MaximumFlavorSocial, award-winning culinary artist Adrianne Calvo uses her years of rich experiences, unwavering commitment to building personal connections with her fans, and inseparable relationship with food to bridge its past and present roles in helping to bring people together. Her unmistakable passion and a willingness to be fully transparent with her creative process allows Chef Adrianne to vividly illustrate how the unique fusion of food and social media has produced remarkable results in her career and created rewarding relationships with her continually expanding fan base. Thinking outside of the traditional cookbook "box", #MaximumFlavorSocial takes you on a journey that begins at Adrianne's childhood dinner table and eventually delivers you to the birthplace of her mouth-watering Maximum Flavor delicacies, Chef Adrianne's Vineyard Restaurant and Wine Bar.
Along the way, #MaximumFlavorSocial examines the social media communication that Chef Adrianne enjoys with her fans, intertwining revealing looks at some of the online accolades that have constantly motivated her to reach new heights with a select sampling of the amazing fruits of that inspiration: The palate pleasuring recipes that have made Chef Adrianne's a can't-miss fine dining destination for a global array of devoted "foodies"! Featuring the thoughtful yet lighthearted first person perspective of one of today's most accomplished young chefs #MaximumFlavorSocial is a deliciously fun ride befitting the Maximum Flavor it celebrates!
The Friday June 26th signing will take place at Barnes & Noble West Kendall located at 12405 N Kendall Dr. Miami, Fl. 33186 at 7PM.
For more information on Chef Adrianne Calvo please visit: http://www.chefadriannes.com or you may contact Creativas Group at: info@creativasgroup.com. Follow her on social media @ChefAdrianne. Photographs and interviews are available by request.
Creativas Group Inc. provides public relations and marketing counsel to national brands, recognized special events and leading non-profit organizations. For more information: http://www.creativasgroup.com.Follow us on social media @CreativasGroup!
###