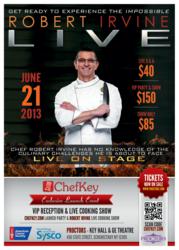 Schenectady, NY (PRWEB) May 02, 2013
ChefKey will host three exclusive events to celebrate the launch of its website. Since the websites development began in June 2012, Chefkey has engaged national recognition from respected organizations such as the American Culinary Federation along with the Chef & Child Foundation, the American Cancer Society and the New York State Restaurant Association. This immediate support from the industry has highlighted the need for a centralized Culinary Media Network such as ChefKey.
ChefKey offers a one-of- a kind hybrid of todays top social networking sites (Facebook, Pinterest, Twitter & LinkedIn) along with features from some of the webs biggest non-social media outlets such as Craigslist & Groupon. The Albany, NY based corporation has been in development since June 2012 releasing its beta platform to the public three months later in September.
Now, one year after its website development began ChefKey is excited to announce its official website launch to the nation with three exclusive events catering to Foodies, Chefs, Culinary Students, Businesses, and Industry Organizations & Educators.
This three part celebration will include an industry forum with a formal introduction of ChefKey by its Founder/CEO Laura Laz and Development Director Jim Tafur followed by Food Network Celebrity Chef Robert Irvines Secrets of a celebrity Chef. Here Robert will discuss the secrets of mastering the art of cooking and getting into the culinary business, becoming a chef, and possibly a food star. The forum will close with an announcement about ChefKeys Culinary Student Competition Countdown – with ACF Educator of the year Chef David Campbell as he introduces the top ten culinary students representing their schools as they prepare for this falls competition.
Following the Industry Forum, ChefKey will host an intimate black tie VIP Reception where attendees will experience exquisite menu tastings by Mazzone Hospitality and meet with the days special guest. The days grand finale Robert Irvine Live will take place in Proctors GE Theater where Chef Robert Irvine has no knowledge of the Culinary Challenges he is about to face live on stage! This show also features a special appearance by Chef David Britton and Chef George Galati from the Food Network show Dinner: Impossible.
After their launch event ChefKey plans to focus on the release of its iOS & Android mobile platform as well as hosting events throughout the country in an effort to promote Culinary Media and expand the food horizons of millions.