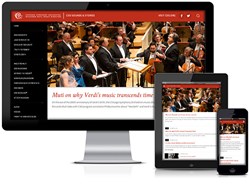 Chicago, IL (PRWEB) December 17, 2013
The Chicago Symphony Orchestra has launched CSO Sounds & Stories (http://www.cso.org/soundsandstories), an online multimedia magazine designed to enhance the concert-going experience and to bring the CSO closer to music lovers worldwide. Integrating audio and video recordings with original, high-quality content created by professional writers, the site previews upcoming programs, features articles and audio/video clips about Music Director Riccardo Muti, CSO musicians, and visiting artists and includes program notes about the seasons concerts, festivals, and themes.
"CSO Sounds & Stories, an extremely ambitious and rewarding project, allows us to communicate directly with people around the world, providing them with a convenient way to learn more about classical music, musicians, composers and conductors while also enjoying the inspired music making of our world-renowned music director and orchestra and the guest artists we host each year," said Deborah F. Rutter, president of the Chicago Symphony Orchestra Association. "CSO Sounds & Stories brings together all of our varied media content to create an integrated digital presence."
"To the best of our knowledge, with CSO Sounds & Stories, the CSO becomes the first major American orchestra to have a dedicated music journalism site," said Philip Koester, vice president, sales and marketing, for the CSO. "We are responding to changes in media consumption behavior and shifts in the media landscape, which have especially affected arts and music journalism. Since publications now have fewer resources to devote to the arts, it is more difficult for the CSO to obtain media coverage, especially previews of coming programs. Therefore, we are using brand journalism and content marketing to tell our stories."
An extension of the CSOs main site, cso.org, CSO Sounds & Stories replaces the Listen & Watch section of cso.org. The site functions effectively on mobile phones, tablets and computers. It will be full of timely, wide-ranging articles combined with contemporary, integrated delivery of streaming audio and video. Content will be promoted on Facebook, YouTube, Twitter, and other social media applications. Moreover, current social media sites, such as the blog of the CSO archivist, are now integrated with CSO Sounds & Stories.
CSO Sounds & Stories also makes better use of the institutions investment in its digital products, including excerpts of its record releases as well as links to CSO Radio programs, through which CSO performances are professionally engineered, recorded and then transmitted to audiences worldwide. The site also offers video content, ranging from interviews with and statements from artists, to the live streaming of concerts, to recordings of Beyond the Score