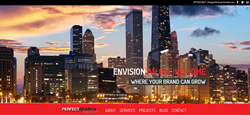 Chicago, IL (PRWEB) December 04, 2013
The new responsive website features a visually-striking slide show, long scrolling pages with stick navigation and a dynamic online portfolio.
Perfect Search Design is an extension of Perfect Search Media, a fast-growing online advertising agency that specializes in SEO, SEM, social media, display advertising and responsive web design and development. Perfect Search strategies focus on testing, data collection and valuable user experience.
Perfect Search Design decided to redesign the site to better demonstrate their web design and development capabilities.
The site is clean and easy to navigate. The site features advanced responsive framework to ensure that our brand is visible and clearly defined, regardless of the device, says Stanton Coville, Senior Designer at Perfect Search.
The new Perfect Search Design site also features a creative Meet the Team page, a new design blog and a web design portfolio that gives visitors an in-depth look into web design projects including ecommerce websites, small business websites, Fortune 500 websites, retail websites and more. The new design blog features articles about web design news, technology, tips and how-to guides.
Visit Perfect Search Designs new online home at http://www.perfectsearchdesign.com.
Perfect Search Design applies a data-driven SEO approach to creative web design for a stronger online presence and higher conversion rates. For more information on Perfect Search Designs dynamic SEO web design services, call or click today 877-655-8227 http://www.PerfectSearchDesign.com