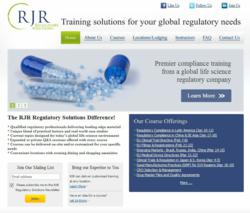 Chicago, IL (PRWEB) September 14, 2012
RJR Regulatory Solutions presents educational seminars and webinars on a wide range of medical and scientific regulatory topics. The courses help companies understand and comply with laws that govern the import/export of products in other countries and deal with local authorities.
One of the key messages RJR wanted their new web design to convey is how vastly different regulations can be in each country and how navigating the laws successfully can accelerate approval by many months. RJR also needed a web design with the functionality to allow users to access complete course information, register online and pay their tuition fees all in one visit.
The choice of web design company was an easy one after a decade of successful partnerships with BIT Studios. RJR again turned to BIT for web design, web development, and internet marketing services to ensure the new site would achieve rapid visibility online.
Jim Russell is Director of Business Development and Regulatory Affairs for RJR Consulting:
"BIT Studios has been our preferred web design company since 2002 and there is a reason why we continue to come back to them. The site design for RJR Regulatory Solutions was exactly what we envisioned and they did a great job turning our early concepts into a professional website. The service we receive is top notch and the project managers and developers really work with you to make sure every last detail is perfect. We are extremely pleased with the insight and diligence that BIT Studios brought to the project to help our business continue to grow".
About BIT Studios
BIT Studios is a web design and web development company based in downtown Chicago. Since 1990, businesses have relied on BIT Studios for web design, custom web development, programming, SEO, online marketing, and conversion optimization. BIT Studios serves US and international clients.