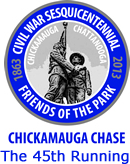 Chattanooga, Tennessee (PRWEB) March 31, 2013
The 45th running of the Chickamauga Chase on April 20th, 2013 will include something new: a trail race. This historic footrace has included various distance options for many years, but this will be the first trail option.
Randy Whorton calls the inaugural Chattanooga Chase Trail Race "unique among the 10 events in our trail running series." Whorton, the Salomon Rock/Creek Trail Series race director, says "this will be unique for Chattanooga trail running. Unlike most of our races, you can see your competition. The course takes runners through the open spaces of the battlefield, so you'll be able to keep an eye on your competition." The trail will be about 8 miles long, with a final measuring to take place soon. An approximate trail map has been posted on the event website.
Rock/Creek and their trail series title sponsor Salomon will make the trail race happen, and the road race options will continue in partnership with the Chattanooga Track Club.
Chattanooga investment banker George Skonberg will direct the race for his 18th year this year, and the event will mark the kickoff of the Sesquicentennial Commemoration of the Battle of Chickamauga & Chattanooga. While the trail running option is new, the race and the course are both steeped in history.
Skonberg reminds runners of the historical significance of the park: "One hundred fifty years ago in the autumn of 1863, in and around strategic Chattanooga, some of the harshest and most complex battles of America's Civil War occurred… Historians who chronicle Americas story acknowledge Chickamauga & Chattanooga National Military Park as one of the major sites commemorating the Civil War that defined us as a nation."
The race will be capped, but the final number of trail runners depends on how many people sign up for the road race. The trail race will be limited to 400, and as Skonberg explains: "Our permit with the National Park Service has a hard cap of 2,000 total participants all events.