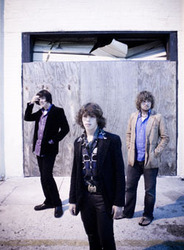 Orlando, FL (PRWEB) June 26, 2008
Lead singer Jimmy Killgallon and the band, No Circus, have today confirmed that the group has signed to Cammarata Management. No Circus's unique fusion of alternative rock(with strong classic rock appeal) combined with Cammarata Management's unique position in the music industry and Internet marketplace will together challenge all traditional musical boundaries.
No Circus has a loyal fan base in the southern regions of the USA, as well as global interest online, and should leverage Cammarata Management's key industry relationships for emerging opportunities both online and throughout national tours.
No Circus and Cammarata push the limits of creativity to produce their signature sound – undeniably their own – to millions of people online and through a rigorous tour & media schedule.
"There is nothing better than playing music especially along side the artists that influence me personally." – James Killgallon the band's Lead Singer.
"His voice isnt the only thing that is captivating. The music is unbelievable. James plays that guitar and it becomes this great stage show." – Suzen Keane, The Grotto
"James … is the real deal." – Jim Abbott, Orlando Sentinel
"… a successful show: that blistering rush from the validating crowd …" – Justin Strout, Orlando Weekly
"I instantly fell in love with their music. It never ceases to amaze me how young they are …" – Metromix.com
"James, guitarist/vocalist of the band, is going to be the next Jimi Hendrix." – Metromix.com
"It wasn't until James opened his mouth that it became phenomenal! His voice is remarkable. I could not come up with enough adjectives to describe his strong voice. You have to hear it, and it will no doubt blow you away." – Suzen Keane, The Grotto
The band plays at The Crowbar – Tampa Friday July 18th.
Background: Cammarata Management

Michael Cammarata's reputation as a pioneer, innovator and leader in the Internet advertising industry has allowed him to develop unique relationships with other major media related companies online and offline. Currently Michael continues to lead EzzMedia and its sister companies. He is also a lead consultant for number of high profile celebrities, many of today's top 100 websites and other large media companies.
http://www.myspace.com/NoCircus

http://www.nocircusband.com/
###