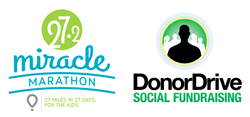 Cincinnati, Ohio (PRWEB) September 25, 2013
Children's Miracle Network Hospitals launches Miracle Marathon, a new major fundraising program, using DonorDrive Social Fundraising Software. The event was created to give busy people an easy way to fundraise for Children's Miracle Network Hospitals. Staci Cross, Director of National Events for Children's Miracle Network Hospitals, explains the concept: "Miracle Marathon is a 27-day virtual fundraising campaign where people can walk, run, ride, skate, or whatever for 20 minutes a day on their own time, on their own schedule and in their own on-demand world." The event was designed to make fundraising and sharing online easy for today's busy event participant and donor.
What sets Miracle Marathon apart from other fundraisers that have come before it is the extreme experiential factor that Childrens Miracle Network Hospitals envisioned and implemented through DonorDrive Social Fundraising Software. Staci has been happy with her partnership with the DonorDrive team in building the online experience: "The whole DonorDrive team is great. Even though we don't work next door, it felt like we had a team working for us right there, helping make our dream come to life."
The Miracle Marathon website connects the community of participants through social tools like Facebook, Twitter, Instagram, email, online fundraising pages and personal blogs dedicated to this event. According to Staci, the experience is already helping to build a community. "Activity on the blog has been really great. We've seen quite a few people starting to share their stories and the event hasn't even started yet." In addition to these tools, the event rallies around one child's story. "Her name is Peyton. She's 14 years old and throughout Miracle Marathon we're going to be following her journey in and out of her Childrens Miracle Network Hospital. She'll be sending videos almost every day and offering words of encouragement, as well as making both fundraising and physical challenges to help keep people engaged throughout the 27 days.
Staci says that even before the event has started, the ease of use and social connectivity are already proving successful at fundraising: "Absolutely, the tools are there that make it very easy for people to fundraise. Many people have already hit their goals and we haven't even started yet. People love that they can share not only their fundraising progress, but also email their story by importing their addresses and sharing their blog posts on Facebook, Twitter, Google+ and LinkedIn."
A big factor that's driving donations is the Fundraising Motivation Engine in DonorDrive that can automatically and strategically coach each participant's fundraising based on where they are in the process. The ability for nonprofit staff to customize messaging is especially helpful for Staci: "Setting up triggered and scheduled notifications so I can customize each participant's experience is probably the most impactful piece of working with DonorDrive. I'm able to personalize the experience for every Miracle Marathoner and do it without creating huge amounts of work for myself."
Miracle Marathon is open to everyone and begins on October 1st with 100% of donations going toward local Childrens Miracle Network Hospitals. Registration is currently open at MiracleMarathon.org.
###
Childrens Miracle Network Hospitals