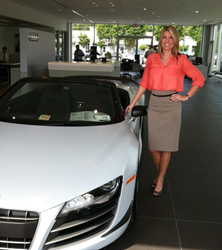 Virginia Beach, VA (PRWEB) March 24, 2015
Dealer Authority, an automotive digital marketing firm that specializes in content, search, and social media marketing for car dealers, has hired Christine Robertson as their new Director of Dealer Strategy.
"Our goal is to have a team comprised of the brightest marketing minds from dealerships across the country," said co-founder JD Rucker. "Christine definitely fits that mold nicely."
Robertson has over a decade of dealership experience and was most recently eCommerce Director at Checkered Flag Auto Group in Norfolk, VA. She has helped to expand the dealer group's online and offline presence through video, content, and by positioning their websites to be the hubs of activity for everything automotive in the local area.
"Her experience and personality are a perfect combination for us," said Executive Vice President Subi Ghosh. "She doesn't just think outside of the box. She tears the box apart and removes all obstacles from her way. That's how we make our clients successful and I know she's going to bring fresh ideas to the table."
As Director of Dealer Strategy, Robertson will be responsible for analyzing and improving Dealer Authority clients' overall digital marketing strategy to include content marketing, search engine marketing, video marketing, and social media marketing.
"Christine is a rockstar," said CEO Tyson Madliger. "She brings the type of experience that we crave as a company."
Robertson is an active participant in dealer forums, regularly attends automotive conferences, has spoken at Digital Dealer, and been featured in Driving Sales' Dealership Innovation Guide as well as Driving Sales TV.