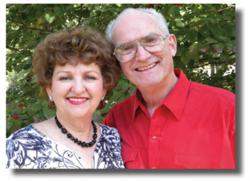 Tulsa, OK (PRWEB) December 18, 2012
Each year the amount of readers who buy books Online increases and the amount of Online Christmas shopping increases, according to M3 New Media. Artist and Authors Doug and Norma Latta want to add value to last minute Christmas shoppers and have decided to make a limited number of their Faces of Truth books available that have been personally hand autographed by the authors for Holiday shoppers.
Twenty years in the making, the biographies and colorfully rendered portraits are sure to inspire and educate during this holiday season. In Faces of Truth readers will be introduced to some of the greatest leaders of human history; and learn that their accomplishments were not solely a function of willpower, education and personal character, but more accurately a reflection of their humility and willingness to allow God to use them.
"It is always inspiring to read of Gods handiwork in the lives of others. Faces of Truth, by Doug and Norma Latta, is an interesting compilation that I believe will bless all who read it."

Mark Rutland, Ph.D. President, Oral Roberts University

Faces of Truth is available for purchase at http://www.facesoftruth.com and makes an outstanding gift for family and friends. Doug and Norma Latta are available to speak at Churches, Organization Banquets, Events, Home School Conventions and Christian Heritage Days and Holidays that honor our Presidents, Military and Founding Fathers.

See the latest Faces of Truth book trailer on YouTube. http://youtu.be/EnVSPCbl3gQ
About Doug and Norma Latta

Early in life Doug was inspired to become an artist by his grandfather, Lyman C. Powell, a forty-year veteran greeting-card designer for the Gibson Greeting Card Company. His admiration for Granddad Powells sensitive renderings in nature and portraiture began as a small spark that grew brighter over the years. After a tour of duty in the army, Doug majored in commercial art in college, resulting in a university teaching career that lasted forty years, during which his original spark of interest and skill in art matured into a flaming passion. Twenty years ago he accepted the challenges of directing this passion into the creation of this book. Normas inspiration as a writer grew out of her love for her mothers poetry, written throughout her long life. Having an older brother who is a writer played a major role in her own development as well. Recently her family was influential in the publication of a diary written by her grandfather, who had been a prisoner in the Civil War. The diary is part of the North Carolina Office of Archives and History.
They both have published their artwork and have won prizes in juried art shows. Their work is represented in private collections throughout the South and Southwest. Most recently a portrait that Doug created for David Bartons Wallbuilders ministry appeared on the Glenn Beck television program. The portrait chronicled the moment that the Reverend John Muhlenburg showed his congregation a colonels army uniform under his clerical robes as his sermon invited them to join him in the revolutionary fight for liberty.