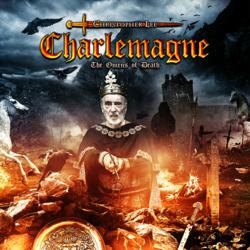 (PRWEB) May 22, 2013
"Charlemagne: The Omens of Death" signifies Christopher Lee's move into full on Heavy Metal.
The singer-actors first solo affair into the Metal genre was the critically acclaimed album, Charlemagne: By the Sword and the Cross (2010), which was more symphonic than its successor.
Sir Christopher says: The first Charlemagne album is metal, of course, but what I sang was more symphonic. Now on the second one, The Omens Of Death, it is one hundred percent heavy metal. Ive done my bits and pieces, and they are heavy metal. Im not screaming or anything like that, but it is definitely heavy metal.
Lee also spoke about being presented with the Spirit Of Hammer prize by BLACK SABBATH guitarist Tony Iommi at Metal Hammer magazines Golden Gods awards in London in June 2010, Lee said, It was a most amazing occasion for me very exciting and something Id never had happen to me my whole career, my whole life, in terms of awards, he said. I have received quite a few. But I was interviewed, actually in this room, by Tony Iommi, who founded BLACK SABBATH. And I hadnt heard them, but I made it a point [to do so]. [And] I thought it was extraordinary. And then I went to O2 [in London] in front of a fairly large crowd, I would say, all, of course, very young. And I got a greeting, which was really quite amazing. The decibel level was very high. Very high, very high.
The music in "Charlemagne; The Omens of Death" was arranged by Richie Faulkner. He completed the work shortly before he was called to join Judas Priest as lead guitarist.
Richie said: "Most of the songs were already there, but they needed riffs, drum parts and musical parts that reflected what the guys wanted which was a metal record with an aim to be played live by a band. Some of the tracks didnt have any music at all and were just Sir Christopher singing his melodies. I remember how surreal it was sitting in my place at the time with Saruman blasting out over the speakers! Ive no idea what the neighbours thought!"
Guitar Idol Champion, Hedras Ramos Jr, is given the guitar duties in the album. Something of a daunting task, but managed to pull it off.
Hedras said: "It was a lot of fun for me. I just had to listen a lot to Iron Maiden, Judas Priest and all those guys – The old school heavy metal, to absorb the sound and the flavour of this music. Composing the music for The Devils Advocate and The Ultimate Sacrifice was quite a trip and tons of fun, because I was given total freedom to add my personal guitar approach to the album. This is a great album for all metal, fantasy and Christopher Lee fans!"
Charlemagne: "The Omens of Death" is being released on the 27th of May 2013 on Audio CD, a 2 Disc Gatefold Vinyl and Mp3 Downloads.
Track Listing:
01. The Portent (4:29)

02. Charles the Great (6:23)

03. The Siege (7:09)

04. Massacre of the Saxons (5:41)

05. Dawning of a New Age (4:40)

06. Let Legend Mark Me as the King (5:45)

07. The Betrayal (5:02)

08. The Devils Advocate (4:54)

09. The Ultimate Sacrifice (5:09)

10. Judgement Day (3:41)
Singers:
Christopher Lee as Charlemagne (Ghost)

Vincent Ricciardi as Young Charlemagne

Phil S.P as Pippin The Short

Mauro Conti as Pope Hadrian

Lydia Salnikova as Hildegard

Gorgon Tittsworth as Roland

Aaron Cloutier as Duke Lop

Daniel Vasconcelos as Oliver
Musicians:
Electric Guitar: Hedras Ramos Jr.

Bass Guitar: Hedras Ramos Sr.

Drums: Ollie Usiskin