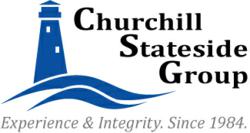 Clearwater, FL (PRWEB) April 05, 2013
Churchill Mortgage Investment LLC (CMI), a subsidiary of Churchill Stateside Group LLC (CSG), announces it has completed the requirements of the United States Department of Agriculture and Rural Development (USDA) to become an approved USDA Lender.
The company recently closed $ 2,850,000 of permanent financing for Cornerstone Commons I Apartments in Conway, South Carolina guaranteed by the USDAs Section 538 Guaranteed Rural Rental Housing Program. The apartment community is located in historic Horry County near Myrtle Beach and consists of 90-units of garden-style homes to be substantially renovated.
The USDA Section 538 program is particularly useful for the preservation of USDA Section 515 apartment communities. Section 515 was the primary program for funding affordable housing developments across Americas small towns for the past 30 years, stated CEO Keith J. Gloeckl, whose years of rural housing lending experience are equally as long.
Brent Watts, CSGs head of debt and equity production stated, were very pleased to offer this product to our clients that want to develop or renovate mature apartment communities. The USDA 538 guaranteed financing program allows eligible lenders to offer attractive financing terms that wouldnt be available for rural properties without the USDA guaranty.
About Churchill Stateside Group

Churchill Stateside Group and its wholly owned affiliates (CSG) serve the affordable housing and renewable energy industries by sponsoring tax credit equity investment funds for institutional investors and providing various construction and permanent financing solutions for the commercial real estate development community. CSGs investor and developer clients benefit from our experienced staff, prominent and proactive senior leadership, and attractive debt and equity platforms. CSG has long-standing and successful investment relationships with numerous corporate investors, pension funds, and insurance companies. The company is also an approved USDA Rural Development and FHA MAP lender. CSG pursues high quality lending and investment opportunities on a nation-wide basis.