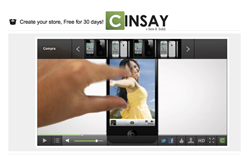 Austin, TX (PRWEB) November 29, 2013
Cinsay, the leader in video commerce technology, is supporting three events for small businesses and merchants this Thanksgiving weekend. Black Friday, Small Business Saturday and Cyber Monday are days where small businesses and merchants can be heard and make an impact to increase their sales and marketing. Its also a great time for shoppers to save big on holiday gifts and services. Cinsay is enthusiastically supporting these businesses through social media, PR and other promotional activities.
Social media and earned media have recently shown the power of combining posts with video eCommerce. The additional audience reach gained through social network promoted posts has shown to greatly increase views, shares, comments and transactions within Cinsays video platform. Merchants can spend little to nothing on these marketing efforts to jump-start their holiday sales.
Small businesses are the driving force and core of our economy and Cinsays multi-patented technology can be the dynamic core for their viral online marketing and sales efforts, said Christian Briggs, CEO and Founder of Cinsay. Were supporting small merchants by promoting them on our Cinsay Marketplace portal and through our social media this week, he added.
Even before the holiday season began, merchants have reported increased conversion rates double, triple and even quadruple for take actions when viewers engage with video. Statistics like these are just some of many reasons that are influencing business marketing for 2014. eMarketers research found, over 93% of marketing executives have or will implement video within their companys marketing and ecommerce by next year.
Cinsay hosts thousands of merchants like J & P Specialty Clocks, who are already taking advantage of the technology. Their small clock repair and unique store offering cuckoo and grandfather clocks experienced 50% increase in traffic thanks to the video Smart Store along with Cinsays social media and PR marketing packages. Other small merchants being featured in the #ShopSmall marketing campaign include, Mishakaudis Handmade Jewelry, Scented Farm-made soaps, and Moms Stuff lotions and had creams.
Besides small merchants, the Cinsay Marketplace features many well-known brands that are offering special Black Friday and Cyber Monday deals to online shoppers. Examples include Sketchers, Fandango, Wine.com and Nautica along with new chic stores like Men in Cities. Movie fans can even watch new film previews, purchase local theater tickets, download free music from soundtracks and enter for a chance to win VIP tickets to the 2014 Golden Globes.
Cinsay continues to improve its technology and formulate innovative promotional tools for businesses of all sizes. To learn more about how Cinsays compelling video eCommerce technology and how any business can directly benefit from combining the Smart Store with the power of social media, visit the Cinsay page for SMBs or call 855-725-2462
About Cinsay:
Dallas-based Cinsay has created a next-generation e-commerce, viewer interactive, video-based platform for any size business. Cinsay's technology enables anyone to sell products, display printable coupons, capture donations, and generate leads all inside its patented Smart Store technology. Cinsay patents include: U.S. Patent Nos. 8,533,753 and 8,549,555 for interactive Internet-based video applications.
Forbes named Cinsay one of America's Most Promising Companies while eTail Conferences named Cinsay a Rising Star in innovation for 2012. Cinsay's eCommerce video-based platform can be used for any individual or business.