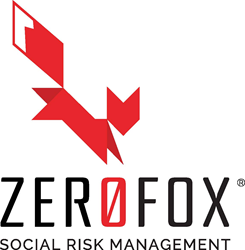 Hoffman Estates, IL (PRWEB) June 20, 2014
CIOsynergy, a provider of thought leading events, today announced ZeroFOXs, The Social Risk Management Company, participation at its event on June 26, 2014 at the Sheraton New York Times Square Hotel in New York, New York.
ZeroFOX enables organizations to protect and grow their brand leveraging the benefits of social media while being mindful and diligent of its risks to reputation, human capital and enterprise security. Social media platforms are widely adopted communications platforms that represent one of the largest risks to business security and are completely invisible to management and security teams. These risks cannot be simply avoided, locked down, blocked or throttled. Organizations that take this threat seriously and implement a comprehensive risk strategy put their organizations in a position to protect their brand against fraud, social impersonations, blackmail, undue exposure and compromise, and other reputation or legal harm.
We are thrilled to have ZeroFOX at CIOsynergy New York. As leading provider of social risk management solutions, their presence will provide event attendees with an additional layer of industry insights and thought leadership, says Patrick Mason, Director of Communications and Marketing at CIOsynergy.
CIOs have a serious challenge ahead of them. Considering the volume of traffic moving across social networks and the range of malicious actors out there, organizations that are leveraging social media are opening themselves up to an immense amount of risk and vulnerability, said James C. Foster, CEO of ZeroFOX. Social media in the enterprise is a completely uncontrolled asset and while leveraging social channels for business purposes has proven important it also significantly extends the organizations attack surface.
CIOsynergy New York is an exclusive opportunity for leading local CIO and IT executives to network and brainstorm daily hurdles in an unparalleled learning environment under the umbrella of John Sculley. Mr. Sculley is one of Americas best known business leaders. He was Pepsi-Cola Co.s youngest CEO, leading the firm through its high growth years with hugely successful experience marketing innovations. In 1982, Steve Jobs recruited John Sculley as CEO to teach Apple how to do big brand experience marketing. Since leaving Apple, John and his Sculley Brothers Family Office has helped many high technology serial entrepreneurs build some of the most disruptively innovative technology enabled firms. These include MetroPCS, HotWire, NFO Research, Intralinks, and Credit Trade. Currently, John is mentor and investor in mobility and Big Data analytics, consumerization of healthcare, data base marketing, IT supply chain, and emerging financial services.
John Sculley will share his firsthand experience with the likes of Apple and Pepsi, offering insights on todays most innovative companies. He will show how companies can thrive, even in tough times, by embracing the power of innovative ideas and creating execution.
At CIOsynergy New York, a panel of leading CIOs, moderated by Scott Shuster, will share and explore how CIOs can be successful in their role. Mr. Shuster has led virtually every Business Week CEO, CFO, and CIO conference held since the founding of the magazines events group – more than 100 of the worlds most prominent gathering of large company leaders and senior executives.
Open to Fortune 500s and mid-market enterprise, CIOsynergys events gathers senior executives from the office of the CIO, including Directors, VPs, Chief Architects, CTOs and CIOs.
For more information about or to participate in CIOsynergy New York, visit: http://CIOnewyork.com, or contact Araceli Delgado, Project Coordinator at aracelid(at)ciosynergy(dot)com or 1.847.278.2213 ext. 899.
About CIOsynergy

CIOsynergy provides a platform that brings together the thought leaders of IT through events that incorporate face-to-face meeting opportunities, panel discussions, think tanks and keynotes, and C-suite networking programs.
Previous events have attracted C-suite leaders from companies such as Wal-Mart, Salesforce, Home Depot, Bank of America, Forbes Media, Wells Fargo, Shell, Allstate, Career Education Corp, Pepsi, Sara Lee, Kraft, BP, Loyola University, Kaiser Permanente, Mayo Clinic, and Walgreens.
The company operations nationwide and has previously partnered with sponsors such as IBM, 3com, VMware, Unisys, Hitachi, Oracle, SunGard, Dell, Google, Amazon, and HTC among 100s more.
About ZeroFOX
ZeroFOX, The Social Risk Management Company, enables organizations to identify, manage, and mitigate the information security risks associated with employee and corporate social media usage. From targeted social-based cyber attacks to fraud, phishing, social engineering and executive impersonations, ZeroFOX provides real-time risk management, threat intelligence and security analytics. The ZeroFOX Platform is a suite of cloud-based security and analytics products that help enterprise and government customers proactively manage information security risks related to social media. Prior to ZeroFOX, organizations had no visibility into this extended perimeter and attack surface. To find out more information about ZeroFOX or to join our team, please visit: https://www.zerofox.com.