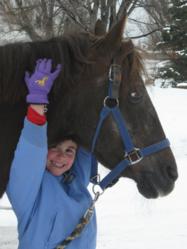 Clarence, NY (PRWEB) December 14, 2012
Spruce Meadow Farm is a family-owned horseback riding facility and farm in Clarence, New York.
As the holidays draw closer, the business encourages riding enthusiasts to start the new year off right by taking advantage of the farm's upcoming winter break horse camps.
These winter camps are offered during the holiday break periods of area schools. They feature similar activities as the farm's summer riding camps.
One of the most important benefits of riding camp at Spruce Meadow Farm is the self-confidence that the experience can build in young riders. Becoming accustomed to horses while building a partnership with their mounts allows campers to grow in self-esteem and riding ability.
The camp also emphasizes safety and good riding etiquette, along with introductory horsemanship and technical skills to give new riders a strong foundation in basic skills.
The professional staff at Spruce Meadow Farm are family-oriented and friendly towards regular guests and campers alike. The mission of the business is to train riders in effective technique and valuable skills while still having tons of fun.
This is especially true at riding camp. Arts and crafts, new friends and games on horseback allow campers to hone their skills in a relaxed environment.
Whether riders choose to enroll in the summer or winter sessions, excitement and discovery are guaranteed.
Visit the farm's website at http://www.SpruceMeadowFarm.net to find out about other special deals that are available this holiday season.
The deals can be purchased either on the website or by calling the farm at (716) 741-2346.
The Spruce Meadow Farm facility also provides boarding, private lessons, and pony parties to suit every occasion.
The farm is dedicated to hosting a wide range of special shows and seasonal events, and the easiest way to keep up with all the excitement is by "liking" the business on Facebook.
The site also allows visitors to sign up for a mailing list, which helps to keep busy riders informed about the latest happenings on the farm.
About the company:
Located at 10333 Keller Road in Clarence, New York, Spruce Meadow Farm focuses on English horseback riding and offers boarding & leasing, training, pony parties and rides, horse lesson riding, horseback riding camps, horse shows, clinics, all kinds of horseback riding in New York and much more!
They take pride in their friendly atmosphere, facilities and the effectiveness of their programs, and invite people to experience it for themselves.
At Spruce Meadow Farm, they want all animals to find safe, loving homes. For more information, please visit their site at SpruceMeadowFarm.net.