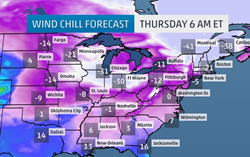 Elmsford, NY (PRWEB) January 08, 2015
New York-based Eye Care Associates enters its 16th year as the operator of CLEContactLenses.com, an online e-tailer that sells contact lenses, contact lens removers and other items related to eye care such as eye vitamins & supplements.
As some may have felt and herd, the vast majority of America is experiencing an arctic cold blast. Between low temperatures snow and wind, many cities will be in the single digits or below on Thursday January 8th 2015.
To help counter act this big chill, CLEContactLenses.com is offering a 3% off sale along with complimentary ground shipping within the USA in the next 2 days (Thursday – Friday). PJ the Online Marketing Manager for CLEContactLenses.com said With the cold chilly weather we are experiencing, we felt this would be a great time to offer a great discount to all to help warm them up. PJ went onto say Since we operate our business online, no one needs to leave the comfort of their warm homes to take advantage of our sale these next 2 days, this will allow consumers to receive their goods in time all while saving a little extra cash which is a win win situation for all.
PJ concluded by saying Our staff and company is built to take on any weather. The past few years alone, we made it through 2 Hurricanes and a few major snow storm all without missing a beat on any of our orders and our customer service remained at an all-time high.
It is reported that 225 million Americans wear some form of corrective lenses. Out of 225 million, 64% wear glasses. All of whom, can confirm that the initial cost of frames and prescription lenses, is not cheap. The deal that CLEContactLenses.com is offering, should not to be over looked as the savings add up.
In order to take advantage of CLEContactLenses.com 2 day deal, users will need to use the following coupon code during checkout: 100325664
CLEContactLenses.com is based out of Westchester County, NY and has offices in Manhattan and Mahwah NJ. CLEContactLenses.com has been in business online for the last 16 years selling contact lenses, contact lens removers, eye vitamins, contact solution and all things eye care related.