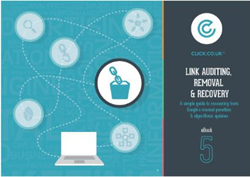 Cheshire, United Kingdom (PRWEB UK) 29 May 2014
Click Consult, a leading UK digital agency with a focus on search and inbound marketing, has launched a definitive eBook, Link Auditing, Removal & Recovery, which compliments the agencys Google Penalty Recovery service. The eBook helps website owners to overcome Google-imposed manual or algorithmic penalties and safeguard their sites from potential future penalties.
Googles manual and algorithmic penalties have become a growing area of concern for website owners in recent years, as either form of penalty can restrict a sites visibility in search results, which may seriously hinder the performance of affected companies.
Link Auditing, Removal & Recovery opens with a detailed overview of the history of linking and Googles algorithms, followed by a comprehensive breakdown of manual and algorithmic penalties and how readers can identify if their site has been affected by one.
Furthermore, Click Consults definitive eBook details each segment of the penalty removal process, including a step-by-step guide on how to conduct a link audit; use Googles Disavow Links tool; write and submit a reconsideration request; and what to expect after the removal of manual and algorithmic penalties.
The final section of the eBook focuses on how site owners can rebuild their websites credibility by implementing various Google-approved digital marketing strategies including inbound marketing, quality content marketing and blogger outreach.
The skilled team of search marketers at Click Consult have a 100% success rate in executing the link auditing, removal and recovery process effectively, having undertaken over 60 manual penalty recovery projects to-date.
Since Google rolled out Penguin 2.0, our search marketing team has been inundated with enquiries from understandably concerned website owners who have been affected by manual or algorithmic penalties," says Click Consults Founder & CEO, Matt Bullas. We recognise the damaging impact that Google-imposed penalties may have on businesses, as their site traffic usually decreases and ultimately, so does their revenue.
Our link removal experts utilise a host of industry-leading tools and best-practice methodologies to recover penalised websites – a process that is complemented by our fully comprehensive guide to penalty recovery," he continues. Indeed, our skilled team of experts have a 100% success rate in recovering websites, using some of the techniques outlined in the guide.
Link Auditing, Removal & Recovery also offers a comprehensive glossary of digital terms, a case study on a real client of Click Consult that the agency recovered from a manual penalty, and an infographic that documents the link auditing, removal and recovery process.
For more information on Click Consult, visit http://www.click.co.uk or call 0845 205 0292.
To download your free copy of Link Auditing, Removal and Recovery, visit: http://www.click.co.uk/resources/ebooks/link-auditing-ebook/.
About Click Consult:

Located in North West England, Click Consult is one of the UKs leading digital marketing agencies. With over 60 professionals employed and with a portfolio of over 125 clients from across the UK, Click Consult works with businesses looking for a tangible, measurable return on investment in digital marketing.
Search marketing is at the heart of Click Consults offering, but it also provides a range of other web services, including content management, conversion rate optimisation and social media. Click Consult is a Google AdWords and Microsoft adExcellence certified company.
Contact Click Consult:

Andrew Smith

Click Consult