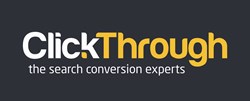 (PRWEB UK) 24 April 2013
Digital marketing agency ClickThrough is celebrating after its PPC management team earned Kenshoo Pro Enterprise Agency status.
ClickThroughs AdWords experts use Kenshoo PPC bid management software on a number of high-profile paid search accounts.
The ClickThrough team already features 12 Analytics and nine AdWords qualified individuals as well as seven staff with Bing Ads accreditation.
Now, the whole PPC management team has passed the Kenshoo qualification, making ClickThrough a Kenshoo Pro Enterprise Agency.
Amy Bott, director of paid search, said: The PPC management team has been driving incredible results for clients weve seen record-breaking sales weeks, huge ROI increases from product listing ads in Google Shopping, and weve all passed the Kenshoo exam.
Kenshoo is recognised as the leading PPC bid management software and were delighted that ClickThrough is now a Kenshoo Pro Enterprise Agency, as well as being a Google AdWords Certified Partner.
Its going to be a big year for paid search and especially for us, as weve launched Europes first free PPC reporting tool, BidCops, which is designed to provide Google AdWords help for PPC managers, and is already proving popular in 32 countries.
On top of Kenshoo accreditation, ClickThroughs chief operating officer, John Newton, has added four new strings to his bow for 2013 securing membership to several leading marketing and business associations.
John Newton, who joined ClickThrough in 2009, is already a Chartered Marketer in the Chartered Institute of Marketing, a member of the Institute of Directors and a member of the Institute of Training and Occupational Learning.
John, who has extensive marketing experience at huge companies including Yahoo! and ITV, has now bolstered his credentials with membership of the Institute of Direct and Digital Marketing, professional membership in both the User Experience Professionals Association and the Digital Analytics Association, and a place as a business leader in the Marketing Society.
ClickThrough encourages all staff to gain relevant accreditations and qualifications. On top of recent PPC success, ClickThroughs SEO content team is staffed by qualified journalists, and insights director Dr Dave Chaffey was previously named by CIM as one of 50 people worldwide to shape the future of marketing.
ClickThrough founder Phil Robinson said the company was trusted by clients because of its commitment to quality and excellence.
Clients appreciate that we dont just talk the talk, Phil said. Its really important for clients to trust their digital marketing agency, and with fully qualified staff, Google and Kenshoo accreditations, and membership of high-profile organisations, not to mention incredible results, we repay that faith in full.
Phil added that ClickThroughs top-down approach to personal development was exemplified by COO John Newton.
He said: Johns recent accreditations and memberships underpin his personal commitment to development something we have instilled throughout our company and Im sure they are the first of many recognitions ClickThrough will receive in 2013.
ClickThrough expanded at the end of 2012 to add a new web design and development team. The company has just relaunched its website, using responsive web design features, to reflect its growing services. Visit http://www.clickthrough-marketing.com to find out more.
ENDS
About ClickThrough Marketing:
Since 2004, digital marketing agency ClickThrough has been trusted by clients large and small to deliver excellent Internet marketing results. ClickThroughs conversion rate optimisation specialists have helped clients in the US, UK and Europe reach new customers, boost sales and grow their business. ClickThrough is committed to providing honest, actionable Internet marketing advice, with results-driven services for SEO, PPC and online PR, and flexible pricing with payment on results models. Call +44(0)808 231 1970 or visit http://www.clickthrough-marketing.com for more information on how ClickThroughs experts can help with SEO, PPC, site content and web development.