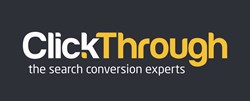 (PRWEB UK) 11 March 2013
Peugeot UK has chosen ClickThrough Marketing to manage its digital marketing campaign for another year.
The Lichfield-based digital marketing agency has provided search engine optimisation (SEO) services for Peugeot since 2009. Since then, ClickThrough has consistently improved search engine rankings, and increased conversions, backlinks and organic search traffic.
Peugeot has now signed up for another 12 months with ClickThrough, citing the agencys consistently high performance as the reason for extending its contract.
The Peugeot deal is the latest success for the digital marketing agency, which has won several prestigious contracts over the last few months.
Andy Goodall, online marketing manager at Peugeot UK, said: After nearly four years with ClickThrough, were happy to report theyve more than met our expectations.
As well as demonstrating an understanding of our industry, and of Peugeots position within it, theyve delivered cold, hard results where they matter.
Weve had offers from other agencies, but having first-hand experience of ClickThroughs expert, honest advice, were convinced theyre the right agency for us.
Phil Robinson, ClickThrough Marketings commercial director, said: To say were pleased with Peugeots decision is an understatement.
Weve worked hard to deliver an SEO strategy tied to Peugeots needs using best-practice linkbuilding and optimisation techniques to improve rankings and traffic for high-value keywords, as well as creating engaging, newsworthy press releases to increase the marques visibility.
Were confident well build on our success over the next 12 months, and hope to continue our relationship with Peugeot for a long time to come.
ClickThrough Marketing has experience with clients in 30 countries, across many industries and sectors, implementing winning digital marketing campaigns.
The agency has recently recruited two expert web developers, enabling it to create SEO and conversion-focussed websites for its clients, as well as providing its existing SEO, PPC, content marketing and online PR services.
For more information about ClickThrough Marketing, visit: http://www.clickthrough-marketing.com/.
Notes to editors
For more information about this press release, contact Oliver Pyper, senior online copywriter. Call +44 (0) 1543 412 471.
About ClickThrough Marketing
ClickThrough Marketing is based in Lichfield, Staffordshire. The agency has helped clients in more than 30 countries improve their digital marketing, PPC, SEO, online PR, and web development and design. It aims to be the number one digital marketing agency in Europe, providing clients with winning strategies that draw on proven, best practice techniques, the latest developments in digital marketing, and its own RITE values: results, innovation, trust and excellence.
About Peugeot UK
Peugeot is one of the worlds most recognised automobile marques. The French car manufacturer has a reputation for innovation that spans more than 200 years, creating countless pioneering cars, vans and other vehicles. Today, Peugeots range includes the all-electric iOn, Next Green Car City Car Winner 2011, and the 3008 HYbrid4, the worlds first diesel-electric hybrid vehicle and winner of Best Eco Car at the Diesel Car Magazine Car of the Year Awards 2011 as well as the 2008 Crossover, 208, 508, 5008 and RCZ.