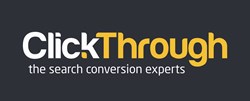 (PRWEB UK) 18 December 2012
A PPC manager at search agency ClickThrough Marketing has become one of only 32 people in the UK to pass all three Google AdWords exams and the Google Analytics Individual Qualification.
Martyn Wright, PPC implementation manager, has not only aced the Google tests, he is also a Bing Ads Accredited Professional.
And Martyn isnt the only employee at ClickThrough to boast an impressive list of qualifications.
Sam Thomas, paid search account manager, and Joe Farley, PPC account executive, hold the Google AdWords Search Marketing certification, and the Google Analytics Individual qualification. Only 123 others in the UK boast both certificates.
Neil Paterson, web development manager, is one of only 12 people in the UK with the Google AdWords Reporting and Analysis certification, and the Google Analytics Individual Qualification.

In total, nine ClickThrough Marketing staff members hold at least one Google qualification.
John Newton, ClickThrough Marketings chief operating officer, said: Obviously, were all very impressed with Martyns achievement, but to us, its hardly a surprise.
The expertise of our staff, across all departments, is what sets us apart from other Internet marketing agencies. When you work with us, you work with leaders in SEO, PPC, conversion, web development and content.
We get great results because we train our staff to the highest standards. We fully expect to see more achievements like Martyns in the near future.
ClickThrough staff arent the only ones receiving official recognition for their accomplishments.

ClickThrough Marketing itself has recently been featured in the Recommended Agencies Register (RAR) list of Top 100 Agencies Outside London.
For more information about ClickThrough Marketing and the range of Internet marketing services it offers, visit http://www.clickthrough-marketing.com/.
ENDS
Notes for editors
For more information, please contact: Ali Harris, head of content, ClickThrough Marketing.

Telephone: +44 (0)1543 410 014

Email: aharris(at)clickthrough-marketing(dot)com
About ClickThrough Marketing:
ClickThrough Marketing (http://www.clickthrough-marketing.com) is a search and Internet marketing agency, specialising in conversion optimisation. Since 2004, the company has helped clients in the UK, USA and Europe reach new customers using proven, ethical search marketing know-how, and our own unique technology. ClickThrough is committed to providing honest, actionable Internet marketing advice, with results-driven services for SEO, PPC and online PR. ClickThroughs Internet marketing experts include a double-award winning senior journalist, one of the UKs most respected linkbuilders, and Dr Dave Chaffey, one of the Chartered Institute of Marketings top 50 people worldwide to shape the future of marketing. Call +44(0)808 231 1970 for more information on how ClickThroughs experts can help with SEO, PPC and online PR.